Successful Divisions Weekend for the Boys Swim Team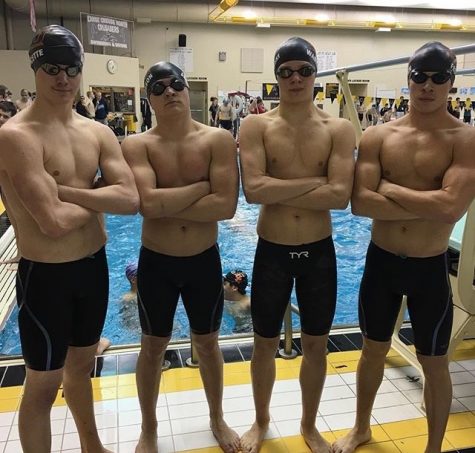 Friday night and Saturday afternoon during the past weekend, the MAC Blue Boys' Swim Division meet was hosted at Marysville High School. Friday night were the preliminaries and chances of swimming Saturday relied on placement Friday. Due to this, Friday night was everything for the swimmers.
They wore special technical suits designed to repel water and decrease drag in the pool to achieve a lower time. Adrenaline is at its highest and the goal on every swimmers' mind is to place top 12 in their events so that they can swim Saturday during the finals.
Friday night the team swam exceptionally well, improving their times well past what they were seeded for, especially in relay events. The relay team of senior Charlie Fromm, junior Kyle Shock, junior Joshua Anderson, and sophomore Ian Wasilewski, came incredibly close to breaking the 200 freestyle record, only a 1/10th of a second away.
"We worked so hard this season and seeing our times go down made it worthwhile." said Shock.
While the relay team missed breaking that record the weekend of the division meet, the boys came through at their last chance meet and broke it with a time of 1:35.26. Another record close to being broken was the 100 freestyle record, missing it by a minuscule amount of 6/10th of a second. Despite not breaking the record, the team is determined to shave down that time for next season, a goal that they fully intend on attaining.
Individually, the boys also did well. Anderson swam Saturday in all four of his events, locking down three second place spots in their division as well as a placement for fourth, despite battling two weeks of being sick in the time leading up to the division meet.
"I think our coach, Joe Michol, was really proud of how we did this weekend." Anderson said.
Coach Michol, as he's called by the team, coaches both the girls and boys swim teams and is happiest when his teams are doing their best. "Since we went faster than we were expected, I think he was pretty excited."
In addition to successful swimming, junior Elijah Lung had a great diving experience, regardless of hurting himself during warm up for his dives. Lung placed 1st for diving in the MAC Blue division, an impressive feat. Friday night he was only ahead by 15 points but he managed to keep his lead during Saturday and come out on top.
"I knew I had to nail my dives Saturday to win 1st, it was pretty nerve wracking for me because the other divers had higher difficulty values." Lung said.
Prior to the diving competition. Lung hit the diving board and scraped his leg while trying to get used to the feeling of a board he wasn't used to.
In the end, Elijah held strong and scored well in order to secure 1st place for himself, even getting an extra celebration for his birthday, that was also that weekend, when he finished his dives.
"When I came up from the water on my last dive, all the other divers and the team sang Happy Birthday to me," Lung explained. "It was a really special moment and I'll remember that whenever I think about divisions."
The team overall placed 3rd in the division meet and were proud of that, having pulled out all the stops for that placement and worked their hardest both days of the meet.