World Language Week
"This whole week is called World Language Week," teacher Julie Wright said. "So really this is an opportunity for the different languages that we teach here to share their culture and language."
World Language Week opens doors for foreign language students to learn more about foreign languages other than the one they are devoting time in school to learning.
"A lot of times in our class we don't have time to celebrate cultural stuff," Wright said.
Each day the language classes had a different activity to celebrate the different cultures of Spanish, French, and German speaking countries and areas.
"Monday we did a scavenger hunt," Wright said, "and they had to find items that were language-based."
The scavenger hunt was eventful and students could be seen in the halls having a lot of fun.
"My favorite day of World Language Week was the scavenger hunt because it was a lot of fun to go around taking pictures of everything," sophomore Alexa Reynolds said. "We got Mrs. Smale to wear a sombrero and we had to take a video of us doing the chicken dance."
Many teachers were involved in the excitement of the World Language Week scavenger hunt.
"Tuesday was a craft day," Wright said. "French and German classes did Mardi Gras carnival masks and Spanish classes did Molas, like a design we colored in."
Students could be seen with their masks throughout the day.
"One day was video clips, so all the language teachers showed short YouTube videos," Wright said. "I had one of running with the bulls."
Videos showed culture of the foreign languages offered here at Utica.
"We watched bull fighting and bull running videos," Reynolds said. "and then we watched a video on traditional German food."
Thursday was a Food Day extravaganza.
"My favorite part of food day is meeting the other language people," sophomore Samual Wolfe said.
"We just thought it would be a really fun thing if every class was in charge of making different cultural foods, so Spanish III made "licuadios", Spanish for smoothies," Wright said. "French did crepes, German did desserts, and Spanish I and II did a taco bar and quesadilla bar."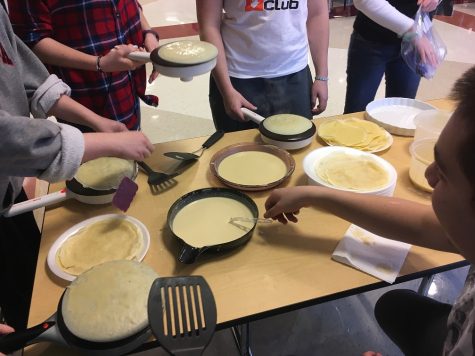 Students seemed to really enjoy food day.
"My favorite part of food day is eating the food," sophomore Kassidy Kilano said. "Trying all kinds of food makes food day interesting."
In order for the food day to run smoothly, preparations had to be made such as "making the food and assigning what people bring in," Kilano said.
Every language student participated in the food day in some way.
"I loved the crepes," Reynolds said. "They were the only thing we made, but they were delicious."
World Language Week was coming to a close, but there was one more activity planned.
"Friday we're gonna be doing flag celebrations," Wright said, "so they'll paint the flag and describe the significance."
Each student who decorated a flag had to explain the reason for the flag's design.
"Painting the flags was a lot of fun," Reynolds said. "My friend put 'war paint' on my face."
A lot of  students are nostalgic for the recent activities of World Language Week.
About the Writer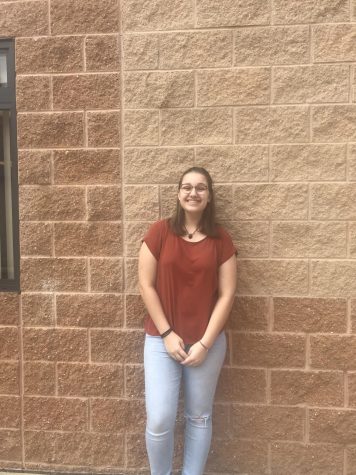 Hannah Piasecki, Design Editor
Hannah Piasecki is a senior and design editor in her third year as part of the Arrow staff. She's part of DECA, Quill & Scroll, and hopes to join more...