Student's hobby turns into an after-school job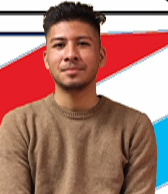 While most normal high school students can't even afford their own haircuts, one senior is giving them.
Santiago Martinez is known for his trendy fashion sense, including his hairstyles. Not only does he cut his own hair, but he makes sure it's styled to perfection every day.
He puts in the effort to not only focus on learning his school work, but also learning how to cut hair, which is traditionally done in a college setting, like barber school.
"Sophomore year I started to cut my own hair," Martinez said, "and when I got better people started to notice and it just grew from there."
As his peers started to notice his obvious talent, a few began to ask for him to cut their hair, as well. What started out as just a hobby for him, has now turned into a small business of sorts.
"He told me about how he taught himself to cut and do hair by watching YouTube videos," junior Tavish Smith said. "I thought that it was pretty cool how he taught himself and was dedicated to learning, so I gave him a chance."
Martinez recognizes that his peers don't have the funding to pay for an expensive hair cut. Due to this, he makes sure to set his prices accordingly.
"Right now, the first time I cut someone's hair I do it for no charge," Martinez said. "After that, if the person likes it and wants to continue to be a client, I charge five dollars per hair cut."
The combination of more and more students having seen his work throughout the school and reasonable pricing has only made his clientele increase accordingly.
"The most people I've had to cut on one day is eight," Martinez said. "It was really cool, actually."
Besides cutting hair, he has also developed a styling product. His customers can purchase a jar of it for just ten dollars.
"The styling paste is meant to give you volume for creating different hairstyles," Martinez said. "It's all natural, so it doesn't harm you hair in any way and can even be used as a lip balm too."
This hobby has also given Martinez a viable option for a job, not just now, but a career after graduation. With his generous clientele built up, he would have already have a steady flow of customers if he moved to a more traditional barber or salon setting.
"I am definitely considering doing it as a career," Martinez said. "When people say they can see me doing it as a career, it definitely gives me a lot more motivation."