Utica and Eppler team up for annual choir concert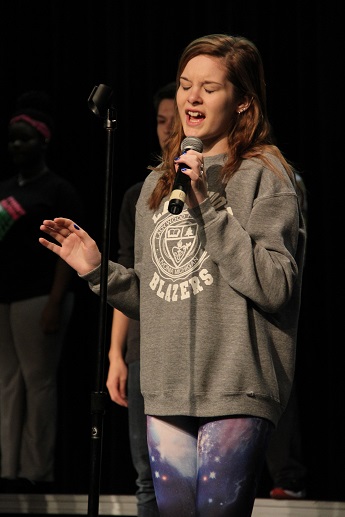 On Dec. 4, Utica and Eppler Junior High's choir classes came together to put on a holiday concert in Utica's auditorium.
Combining the high school and junior high choir classes was a challenging process, as it was difficult to schedule time for the classes to come together and rehearse. However, students really enjoyed the process of working together with the younger kids.
"Working with the Eppler students was fun," senior Sabrina Huth said. "I liked the feeling of mentoring them. I also liked the different songs they sang."
Many choir students enjoyed the change.
"The junior high students were really more mature than I thought they would be and helped out a lot," sophomore Josiah Page said. "Our performance was better because they wanted to do well and had a lot of performance experience."
At the show, students sang songs such as "Grown Up Christmas List" by Amy Grant and "Christmas Shoes" by Newsong.
Other songs featured included "Love Is In Need Of Love Today" by Stevie Wonder and "It's Christmas Time" by Christina Aguilera.
Choreography plays an important role in choir shows.
"Practice makes perfect," Page said, "or, to make a stud."
Senior Casey Suchoski said she loves the feeling of entertaining others.
"I really enjoy being on stage and performing for an audience," Suchoski said. "I've always liked being the center of attention, and singing on stage gave me that feeling."
Senior Keagan Banfield, who plans to pursue a music career after high school, said he enjoys performing in front of audiences.
"I feel so comfortable on stage; I feel like I belong there," Banfield said. "Music is my passion, my life. I love it."
The choir is currently rehearsing for an upcoming performance in January, as well as their Pops concert.