Addictive game has students crushing candy
Move over, there's a new game in town: "Candy Crush." It has been installed over 500 million times on Facebook, iPhone and Andriods. Even though the game itself is free, with so many downloads it is adding up to about 1 millions dollars a day for its maker, King.
Students in class are no longer hiding their phones in class due to texting, but because they cannot stop playing "Candy Crush."
"I literally hate the game so much," senior Megan Sorensen said. "I hate that I am addicted and I can not stop playing, I am hooked.".
What is it exactly that makes "Candy Crush" so addicting? Like most video games, when players die, the game restarts and until that level is completed.
In the world of "Candy Crush," players only have fives lives. Every time they lose a life, they must wait 30 minutes for each life to come back. This strategy goes hand and hand with supply and demand. If something is popular and limited, the more people want it. Having to wait for lives builds the suspense of playing, adding to the game's popularity.
"My parents make it a competition between each other," senior Casey Suchoski said. "They will sit in the living room together and play on their iPads seeing who can bet what level and who is at the higher level."
On certain levels of the game, players have to either complete challenges or get tickets from friends on Facebook to continue playing. After each challenge, players must wait a full 24 hours before playing the next one.
Why wait? Conveniently, if a player doesn't want to wait the required time, they can simply purchase the ability to continue playing. For many, the "free" game that was downloaded is starting to cost money.
It seems as if the creators of "Candy Crush" have found the formula for addictive gaming: time restraints.
About the Writer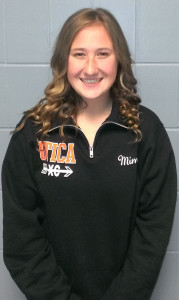 Mimi Murphy, Editor
This is her second year as an editor for Arrow. She likes to find out information about what is going on, and informing everyone about the best news. With...