Students get a jump on college with Early College of Macomb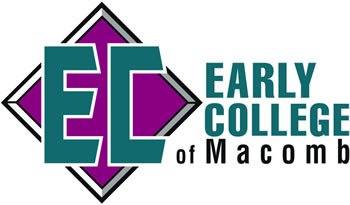 Students have the opportunity to receive college credit while still attending high school by enrolling in the Early College of Macomb.
The program allows students to attend the first half of the school day as any normal high school student, then leave after the first three classes of their junior year to go to Macomb for their college courses. During senior year, students only take the first two classes of the day at their high school.
Junior Alica VanDurnen takes classes at Macomb on Tuesdays and Thursdays, along with a three hour class on Saturday. Her classes are broken up into first and second semester, just like a regular college student.
"I thought it would be a good opportunity," VanDurnen said. "I had the potential to do this, so I thought I may as well push myself to see what I was capable of."
Some students admit the program isn't for them.
"I would've done the early college program, but I didn't want to miss out on my high school experience," senior Eric Kata said. "These are the memories I'm going to look back on forever, I wouldn't trade this time for anything."
Each semester, VanDurnen takes three classes. First semester she had Economics, Seminar and Comparative Religions. This semester, she has Seminar, Politics and Mythology. Politics and Economics are mandatory classes, while Mythology and Religion are electives.
Even though students who enroll in the program are still in high school, their college courses are included in their college GPA, and high school students aren't given any special treatment.
"The professors really expect you to do the same amount of work as others," senior Ashleigh Daubert said. "Just because you're in high school doesn't mean they cut you any slack; they actually expect more from you."
The Early College option can be very demanding on a schedule, but has a lot of advantages.
"Students who attend are very mature for their age," Daubert said, "and the professors treat you as if you are an ordinary college student."
In order to enter the program, students must meet all of the prerequisites and qualify through early placement testing.
Students also need to take all the steps any other college student would normally take to sign up for school, such as completing the early online admissions application, and submitting a recommendation form, current transcript, and most recent standardized test results.
Leave a Comment
About the Contributor

Joe Imbrunone, Editor
Joe is a 17 year old senior who one day wishes to contribute time and dedication to defeat juvenile diabetes. Joe is not apart of any sports, instead he...