GALLERY: High School Musical
For their last performance of the school year, drama students sang and danced their way off of the stage. On March 27, 28 and 29, the drama department turned into the East High Wildcats from 7 to 9 p.m.
Their production of "High School Musical" was adapted from the Disney movie for the stage. The play introduced new songs and cut several scenes out, but still included many popular original songs and acts from the film.
Senior Keagan Banfield, who has been in the theater program since the beginning of his high school career, played main character Troy Bolton, a high school jock with a hidden talent for theater. Junior Cynda Molina, who had never performed in a theater show before, co-starred alongside Banfied as Gabriella Montez, a vocally talented mathlete.
Before the musical officially began, a running wildcat grabbed random audience members and pulled them to the stage to dance with cast members. Instruments played and the crowd chanted and clapped to the beat of the wildcats dancing.
"I'm always very energetic before the shows," senior Stephanie Jarzombek said, "so being able to pump the audience up relaxed me."
Even the cast, waiting behind the curtains for the show to start, was jumping up and down in excitement.
"It pumped us all up to hear the crowd so excited," junior Emily Branthoover said.
From the wildcat's rampage through the audience at the beginning of the performance to Troy and Gabriella's kiss at the end, attendees had very positive reviews of the show.
"The singing was great, the acting was superb and the musical was just good overall," teacher Craig Skalski said. "I enjoyed it."
The musical had the biggest cast of any production this year, with a cast of 60 students, and every character had the chance to sing on stage.
Cast members agree that the cast worked together well and had a great dynamic.
"This cast was very energetic and a lot of fun to work with," junior Keaton Barbes said.
To build the set, rent costumes, and hire a choreographer to teach the actors to dance, drama teacher Joel Kaczmarczyk spent $3,600 just to produce the show. An additional $10,000 to $12,000 was spent for additional amenities. Printing programs alone cost $1,000.
Tickets cost $10 for adults and $7 for kids 12 and under, and each night's performance sold out.
"People always ask me, 'Why do you charge so much for a performance?'," Kaczmarczyk said. "Charging as much as we do is to pay for the show."
Despite its high cost to produce, the show's profits turned out better than the drama department expected.
"The show was very successful financially," Kaczmarczyk said.
About the Writer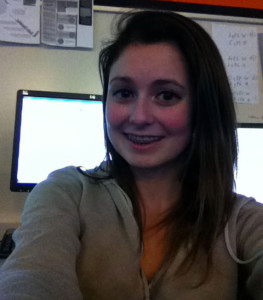 Shelby Daiek, Editor
This is her first year on the newspaper staff. She's a junior, club page editor, and she also involved with SADD and RSVP. She loves being on the newspaper...