Downtown Utica expands annual Christmas Tree Lighting Celebration
Carolers, reindeer, horse-drawn carriage rides added to outdoor event
Carolers, horse-drawn carriage rides, reindeer and Santa Claus–Christmas is almost here in downtown Utica.
While the smell of pine and endlessly colored lights are already making an appearance, the City of Utica is upgrading its annual Christmas Tree Lighting Celebration. 
"I wanted to make it big, and I want to make it memorable–a real tradition you would want to go to next year and for years to come," Utica Mayor Thom Dionne said. "Bigger is always better when it comes to a party."
The Jacqueline K. Noonan Riverwalk Park will be lighting up the winter night with holiday cheer and Christmas lights on Tuesday, Dec. 5.
The outdoor celebration is free, and will take place snow or shine. The event will feature many attractions, such as horse-drawn carriage rides, as well as hot chocolate and donuts in the warming center, which is to be located in the Gibbing Room of the Utica Library.
The horse-drawn carriage rides will include a short tour of the Downtown Utica area, and can seat around 15 people per ride. These will be available for two hours.
"It sounds really cool," sophomore Savannah Sultes said. "It sounds really beautiful."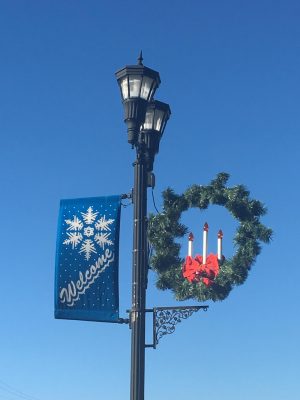 The "new tradition," according to Dionne, is set to include a variety of attractions, such as the Meadowbrook Theater Christmas Carol cast, who will appear in costume. The actors are scheduled to do some caroling during the event, along with the St. Lawrence choir.
"Seeing the city of Utica trying so hard to create an everlasting tradition means so much to me," senior Nalani Renta said. "I am so excited to see how great this event turns out to be."
Leader Dogs for the Blind of Michigan will also be making an appearance, along with the United Shore Professional Baseball League's mascots. Additionally, the Utica High School Marching Band will also perform.
"It does sound interesting. I went to it last year to play music for marching band and there weren't as many activities going on then," sophomore Gina Sapiano said. "I will be going again for marching band and I think it will be more fun than it was last year."
Santa Claus will also be coming to town for this event. Children will be able to sit on his lap, and tell him about all the little goodies they want for the holiday.
New this year, Santa will be accompanied by his reindeer and elves. Attendees will be able to pet the reindeer in a small petting-zoo like area of the celebration.
"I may have never been to the Utica Christmas Tree Lighting, but hearing about all the new events really makes it sound like fun." sophomore Oliver Fairman said, "I can't wait to see how Utica comes together to celebrate this holiday."
The event is scheduled to go from 6:30 to 8:30, though there is no official ending to the festivities.
"I wouldn't put [the end time] in stone," Dionne said. "It's done when everyone goes home."
For those hoping to start the night a little earlier, a reading of "The Night Before Christmas" will take place at the Utica Library at 5:30 p.m. The reading will be followed by a children's craft geared toward ages preschool through third grade.
"What a great way to celebrate Christmas,"sophomore Dez LaCourse said.
More information about the celebration can be found on the city's Facebook events page.
View Comments (1)