AP Environmental Science shows off RSVP Presentations
It was just another normal day in the AP Environmental Science classroom on April 29th. Second hour is usually full of sleepy students, trying to prepare for the AP test coming up next week. Teacher Brian Drobnich helps his students by going over packets and discussing different environmental topics but not everyone is taking the AP test. These students are given different things to work on such as multi-media presentations or figuring out a way to impact the environment in a positive way.
Senior Cayman Eller came up with an idea to build his own stream table, which is a way to explore and investigate different river formations and sedimentation. During class he got to work and created this table in under an hour. He used sand, water with increased pressure, a wooden block to act as a dam, and blue food coloring to show the depth of the stream.
"I made the water table as a project for RSVP," Eller said. "I chose it to give students a better understanding of how streams work and the environmental damage of a dam."
As the water flowed through the river, it shaped the sand and showed what happens to the land formation. Some of the sand gave in when more water was used or when the dam was in a different place. The presentation also demonstrated what happens upstream and downstream when a dam is in place. Less water accumulates downstream, which means less nutrients and water.
"I spray painted some sand blue to show what would be essential nutrients," Eller said. "With the dam in place, some of the blue sand or nutrients didn't make it to the other side. It was really fun to make."
Not only did Eller demonstrate to Drobnich's second hour class, Principal Janet Jones also came to watch his presentation. Because Eller is part of RSVP (Raising Student Voice Participation), which meets with Jones on the last Friday of every month and discuss things happening in classes, schools, and even the whole district. Jones also brought in guests to view his demonstration.
Leave a Comment
About the Contributor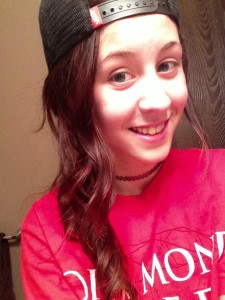 Alaina Jaster, Editor
Alaina Jaster has been on the Arrow staff for three years and this is her second year as an editor. She really enjoys talking to people and getting information....