Review: It's Not You, It's Me
"It's not you, it's me," the most well-known break up line in the history of relationships, is also a not so well-known studio show. Utica's theater department performed the show for "one night only" on Thursday, April 24 at 7pm.
To warm up the crowd before the play actually began, a cappella group Full Throttle sang three songs about break ups and teenage love.
When the play began, the dark stage opened to a nice, fancy restaurant. Couples dazed with love fever are everywhere, with a spotlight on one table, where the love was lacking. Senior Christopher Winter sat at a dinner table for two, about to be one, waiting for his date to arrive.
According to junior Taylor Murphy, the play was so good that she lost her voice for screaming for her friends in the show.
"It was am amazing performance," Murphy said. "It was nice to see so many people I knew in this show."
Throughout the studio show, broken hearts filled the theater stage. While girls were completely clueless, their "boyfriends" tried and figure out a way to gently break it to their girlfriends that, it's just not working and "It's Not You, It's Me."
"There was a lot more new people in this studio show," senior Stephanie Jarzombek said, "and it was really nice to meet them,"
In this studio show, the theater was filled with new people offering their own talents and strengths to the drama department, such as brother and sister, junior Rachel and senior Sam Goepper.
"Working with Sam was fun," Rachel said. "He helped me out since we were both new to theater."
With the "love assassins" appearing throughout the show, the audience felt the pain, as well. Whether it was the heartache, the comedic remedy to fix the loveless life they have, or just the lack for a person who shared mutual fondness.
"It was literally the story of life," Murphy said.
At the end of the studio show, the cast came out and took a bow, receiving applause from left and right, as the crowd roared and rushed to the hall to see and congratulate everyone who preformed.
Leave a Comment
About the Contributor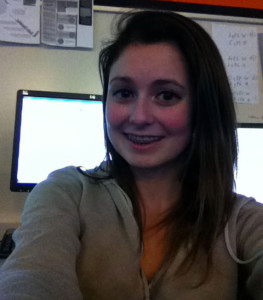 Shelby Daiek, Editor
This is her first year on the newspaper staff. She's a junior, club page editor, and she also involved with SADD and RSVP. She loves being on the newspaper...