Celebrate Sunshine!: Students look forward to summer activities
The first day the grass was clearly visible, students were getting out their summer clothes and heading outside. The sun was finally in the sky, the temperature was finally rising, and school is finally coming to an end. The sun doesn't provide vitamin D, it also provides an opportunity to hang out outside, go to parks, and participate in other outdoor activities.
There are tons of things to do once the weather gets nicer. Many students have been seen at the local parks playing disc golf, skate boarding, and bike riding. Stony Creek Metropark and River Bends Park are very popular for longboarding and other outdoor activities due to the hilly pathways and scenery. Some people even tailgate and have small get-togethers under the pavilions. Other activities include geocaching, horseback riding and fishing.
Geocaching is on the rise with students this season. Environmental science students recently went as a class to River Bends Park. Essentially, geocaching is when people use a GPS or smart phone to hide and find containers or other interesting treasures, called caches, around the area. It is a widely known recreational activity that can be done almost anywhere. Once the cache is found, the date and the name of the person who found it must be written in the log.
"Walking through the woods is always so much fun," senior Dayna Demo said. "Actually looking for things and finding the caches adds to it. It's like finding hidden treasure."
Spring time and the end of the school year signifies when everyone can finally spend some time outdoors. Not only do students enjoy walking around local parks, but many people go camping for Memorial Day weekend, as well as open up their pools. Camping is a good group or solitary activity. There's a lot to do at a campground or site, such as fishing and sometimes even kayaking. Many students also have pool parties and lay out in the sun.
"I love being able to go in my backyard and sit by the pool," senior Savannah Deluca said. "After Memorial Day, it's always something to look forward to, especially on a hot day."
Disc golfing has become a very popular activity among students. There are designated courses just for disc golfing such as Fire Fighters, Rain Tree, and Stony Creek. The sport includes different types of discs: putters, distance and everything in between. Disc golfing isn't just like throwing a regular frisbee, it takes a lot focus and form. Throwing long distance has been proven difficult by many disc golfers. The thrower must have a good arm and be able to keep the disc soaring through the air.
"I like to do a lot of activities once it gets warmer," junior Nick Fortin said. "I go fishing a lot and hunt, but disc golfing is probably my favorite. It's just really fun with a group of friends."
While some people are athletic and enjoy physically challenging activities, others just enjoy a nice walk in the woods with their friends. Many students explore local forests and climb trees. When camping, it's popular to visit national forests or parks.
"I like walking through the forest and just looking around," senior Rachel Ginley said. "Running through the woods and just adventuring is a really good way to relieve myself of the everyday stresses of life. Not to mention, you find some really interesting things in the woods."
Whether it's biking, exploring or disc golfing, students have been taking on the outdoors after a long, cold winter.
About the Writer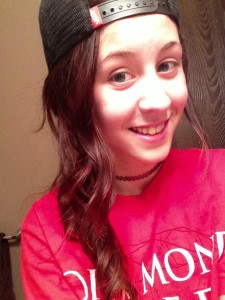 Alaina Jaster, Editor
Alaina Jaster has been on the Arrow staff for three years and this is her second year as an editor. She really enjoys talking to people and getting information....