Spring sports careers end
Senior year brings a lot of last times and final moments. Seniors are thankful to be done with some things, like attending six classes every day. Other experiences will be missed, such as seeing close friends every day since Kindergarten. For those about to leave these halls, wrapping up the school year brings about many conflicting emotions.
For some seniors, the end of the school year also means it's their last time playing a sport they have played throughout high school. Some seniors have played their sport since childhood in little leagues or club sports, all the way through their senior year.
Starting out on the freshman team, many students worked their way up to earn their varsity letter. Some students' best and worst high school moments have happened on the field or track where they have spent their last four seasons.
Not only have these students been shaped by their entire high school experience, but their sport teams in particular helped them grow and taught them valuable lessons of leadership and commitment. Playing on a team also created lasting friendships, a second family that saw them through their best and worst.
Sports also led some seniors into a new future of playing for a college, which is what many athletes have worked towards their whole high school career. If they decided not to play for college, this chapter in their life has ended.
Some seniors have reflected on how they feel now that their final season has ended, and all of them agree that the change is bittersweet.
"In golf, there is no one to blame but yourself if you mess up. It challenges me mentally and physically. I will never forget my junior year; our team made one of our other teammates shave his head for getting a birdie. I am really going to miss the team after the season is finally over." -Conner Campbell, Golf
"I am going to University of Detroit Mercy; they signed me for infield. I am going to miss my team the most. I loved seeing them all grow over the years. Last year, our team got the first Mac White champ in history. It was pretty awesome."  -Sarah Mauser, Softball
"I like that baseball is competitive, and it's a very team-oriented sport. It's fun making an awesome play and helping the team. My sophomore year was probably my favorite year because we had a lot of the same players from freshman year, so we had good chemistry. We also won lots of games. " -Evan Agattas, Baseball
"Track has made me stronger, faster and more of a leader. I am going to Saginaw Valley State University for track, and I will probably run distance. I'm going to miss the distance and sprinter team being so close, as well as all of the guys and girls teams." -Andrei Rotar, Cross Country/Track
"My coach has taught me a lot, and I have become very close with all of the underclassmen. I will miss them so much. Tennis has helped me become stronger and given me better leadership along with sportsmanship qualities from it." -Sarah Klinker, Tennis
"I'll never forget the game we played against Stoney Creek, where I gave a player a concussion. In such a short time, these guys have become my family. It's going to be tough to leave so soon, but they'll kick some butt for me." -Tyler Jeffrey, Lacrosse
Leave a Comment
About the Contributor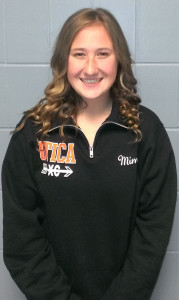 Mimi Murphy, Editor
This is her second year as an editor for Arrow. She likes to find out information about what is going on, and informing everyone about the best news. With...