Teacher Steven Domke retires, reflects on long career
Forty years.
That's how long government and U.S. history teacher Steven Domke has been teaching in Utica Community Schools. In his 40 years teaching at three different high schools, Domke has had many unique experiences. However, this year will be unlike any other of his previous school years: it's his last.
"I'll miss him," principal Janet Jones said. "We'll all miss him."
Although Domke just officially announced his retirement, he has been contemplating the idea for a while.
"It's been a couple of years coming," Domke said. "I still enjoy teaching, but I turned 62 this year. It's also been an even 40 years teaching."
Domke has always been fascinated by history. His interest began when he was a student learning about the Civil War in history class.
His career started all the way back in 1974, when he landed his first teaching job at Eisenhower High School after graduating from Central Michigan University. Domke continued to teach at Eisenhower until 1985, when he began teaching at Stevenson High School.
"I taught there for fifteen years and loved it," Domke said. "I taught all of the AP History and the Anthropology classes there and had all of the smart kids who took it as an elective."
Domke taught at Stevenson until 2000, but then he decided to move to the board office. Domke was responsible for developing all social studies courses in the UCS district. His position in the board office ended up being a short stay. Mr. Conger retired from Utica, leaving an empty position for an AP government teacher.
"I was brought on to replace him," Domke said. "I ended up teaching alongside him for two years until he retired."
Having been a double major in both history and political science, Domke was one of the few teachers qualified for the job.
"Political science degrees are a lot harder to come by," Domke said. "That was the reason I ended up teaching AP government."
Over his forty years teaching, Domke has earned several awards. He received the History Teacher of the Year award in 1986 from the Daughters of the American Revolution. In 1995, he was named Macomb County Teacher of the Year. He also earned Michigan Counsel of Social Studies Teacher of the Year in 2005, and Utica High School Advanced Placement Teacher of the Year in 2008.
"He is one of the all around good guys," Jones said. "He has a wealth of experience and knowledge."
In addition to all of the awards he has won, students agree that Domke is one of the most popular teachers in the school. He constantly finds many of his former students checking in and hanging around his classroom.
"I give my students respect," Domke said. "It may not work for everyone, but it does for me."
In addition to being well respected by students, he is also well liked and respected by many of his peers. He has served as a union leader for each high school he has taught at.
"He's a man of many hats," Jones said. "He's good at settling differences and seeing all viewpoints."
His greatest passion has nothing to do with teaching, Domke said. For over 30 years, Domke has participated in civil war reenactments all across the country, and he even served as an extra in the 1993 film "Gettysburg."
Domke is a member of the Lone Star Guard, which portrays the 4th Texas Infantry in various reenactments. His son, Nate, is also a part of the group, serving as the 2nd Sergeant. Domke himself serves as the captain of the guard.
"It's something that I enjoy doing," Domke said.
While Domke is looking forward to his retirement, there are a few things that he'll miss about teaching.
"When you live life to the fullest, you have to interact with other people," Domke said. "That's what I'll miss."
View Comments (2)
About the Contributor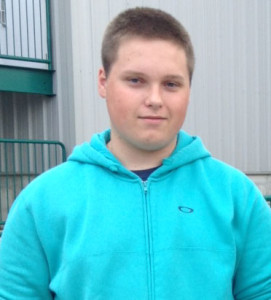 Matt Barile, Managing Editor
This is his second year as an editor on the Arrow staff, and his first year as the copy editor. He enjoys writing about a wide range of topics that Arrow...