STATE OF SECURITY
After tragedy strikes a high school in Parkland, Fla, students react while UCS collaborates with law enforcement, increasing training and protocols.
Columbine. Sandy Hook. Aurora. Virginia Tech. Charleston. The Pulse Nightclub. Most students can name the deadliest mass shootings in the United States like they could name off vocabulary words for one of their language classes. Politicians and citizens alike have referred to the ever-increasing incidences of gun violence as an "epidemic" and are calling for legislation to be passed in response.
After tragedy struck on Valentine's Day in Parkland, Fla, the school district and staff has been forced to re-examine its own security measures, especially in the wake of "credible threats" to Utica High School (see timeline). The massacre at Marjory Stoneman Douglas High School has prompted a chain reaction of events, not just across the country, but by people across the local area.
STUDENTS' REACTIONS
On April 20, members of principal Tom Lietz's Student Advisory Board held a sit-in to commemorate the anniversary of the Columbine High School shooting, and as an alternative to the National School Walkout events, both of which were held on March 14 and April 20.
After Lietz encouraged students to think about what they wanted to accomplish, so–instead of a walkout–students got to work planning open, unbiased discussions about school safety and gun violence. Some prepared speeches about becoming politically active with government officials and through voting.
Students had different reactions to the 'sit-in," which was held during sixth hour.
"I didn't feel like it was open enough," junior Delaney Hageman said. "We had many limitations to being there."
Others, however, embraced the alternative format.
"We are here to learn and listen to others' opinions," junior Cooper Doucette said, "and to help for the greater good."
"It's a great way to express opinions," senior Brendan Haithcock agreed, "and get different opinions from the student body."
Organizers emphasized the event as an all-inclusive one, where every student could come and share their different thoughts and opinions.
"I believe that [school shootings are] something that we all know has happened," Student Advisory Board member Madalyn Batres said, "but we don't have the right place nor time to actually discuss and heal from the events–and this group allowed us to do so."
In light of the recent events and changes around the school (see timeline), the sit-in gave the nearly 200 students present in the cafeteria the chance to discuss their opinions on school safety in a safe environment, and to be inspired to make a change
"If you're down here [in the cafeteria]," Lietz said, "it means you care enough to be politically active."
CHANGES IN LAW ENFORCEMENT
The most notable change in school security procedures was the addition of Shelby Township Police Officer Jacob Lukas to the staff, serving as a school resource officer. 
"There will be no point in the day where there is not an armed police officer in the building," school liaison officer Jim Malczewski said. "Our [Shelby Township Police] Chief, [Robert] Shelide, has been working on this for a while. Since [the Parkland shooting] happened, it really expedited it."
However, changes to protocol in a potential active shooter situation have also been modified.
"Parkland changed a lot of things," Shelby Township Police Deputy Chief Mark Coil said. "We will work cooperatively with the school district to create a more unified front. Be confident that Utica Community Schools and the Shelby Township Police Department are working to protect kids."
UCS addressed the recent adoption of the ALICE Active Shooter Training program within the school at two informational meetings in March.
ALICE is an acronym representing actions that need to be taken during an active shooter situation: Alert, Lockdown, Inform, Counter, and Evacuate.
"Members of law enforcement trained in ALICE stressed that it's meant to empower potential victims during a lockdown.
"The whole point of ALICE," Shelby Township Lieutenant Robert Trupiano said, "is you just can't sit and do nothing. We're going to empower everyone with not just hiding under the desks… and putting our heads down, because it just doesn't work."
Trupiano stressed the importance of using everyday objects, like backpacks and staplers, to counter a potential shooter upon entry. This, he said, is a last resort in order to not "give up."
Some teachers have already been trained with ALICE and more staff members will continue to be educated about it in the future, according to law enforcement, as well as UCS Assistant Superintendent for Teaching and Learning Robert Monroe.
"One of our goals… is to have a consistent plan," Monroe said. "Communication [with the police department and families] is key to keeping a good plan moving forward."
Although officials are ramping up security now more than ever, it's to better security for all students in the long run, so the risk of a school shooting is as low as possible.
CURRENT CLIMATE
With copycat threats occurring now more than ever, students still have concerns for their safety, despite security being ramped up every day.
"I think schools now will be safer than ever," Malczewski said. "Lately, though, kids have been getting in trouble on social media. I wish students would be more aware of their actions and reactions."
Some students aren't worried about their safety at school, and choose not to dwell on it.
"I feel that school security is fine," senior Jake Lanfear said, "and students think too much."
With security changes coming fast and furious, the future is still uncertain. With a bill in the Michigan legislature to allow carrying concealed guns in schools, the debate surrounding guns and school safety is bound to rage on.
Leave a Comment
About the Contributor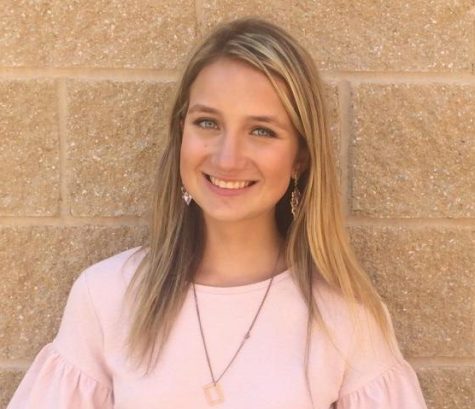 Elizabeth Cetnar, Editor-In-Chief
Elizabeth Cetnar is a senior and is proud to be the editor-in-chief of the award-winning Arrow newspaper. During her second year on the newspaper staff,...