Cool Math Games' shut down is a hoax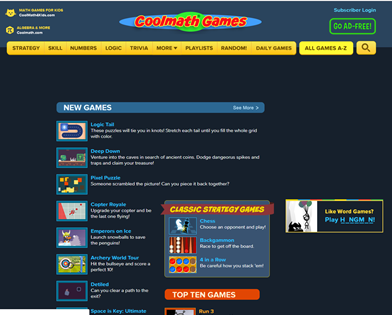 Since the site's opening in 1997, Cool Math Games has been an escape for students during stressful, boring school days. Earlier this week, panic arose in many teenagers when they heard the rumor that the website was shutting down due to Adobe Flash being discontinued. However, we have since learned that the rumor was indeed a hoax.
The rumor was started by a user on Reddit, who claimed that since Adobe Flash was shutting down, Cool Math Games would have to also. This is because most people believe that the games on the website are backed by Adobe Flash. Since then, a representative from Cool Math Games has confirmed that the site will not be shutting down in 2020. All newer games on the site are not backed by Flash. All old games on the site that were backed by Flash have now been converted to HTML5. Therefore, Cool Math Games will be unaffected by the discontinuation of Adobe.
When the rumor was not known to be a hoax, students at Utica reminisced about their memories with the website.
"I'm going to be very upset because that is my childhood, and it's gone," junior Ashley Siluk said. "I just think it's bizarre for them to shut down. I'm going to miss playing The World's Hardest Game."
At the time there was also a change.org petition to stop Cool Math Games from shutting down. The petition, created by user Karen Hill, was requesting 1 million signatures.
"I love Cool Math Games and I go on it whenever I'm bored," junior Jade Gomez said. "I would totally sign the petition to have it not shut down."
Even though Cool Math Games will not in fact be shutting down, some, like junior Alyssa Barocio, are still not happy with the panic that had recently ensued.
"I still disagree with the decision to shut down Adobe Flash," she said. "It's dumb."