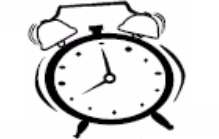 Utica teachers say 'it's time' for a fair contract
From pay cuts to furlough days, Utica teachers seek common agreement through collective bargaining
November 15, 2019
Teachers by day, protesters by night. The educators of Utica Community Schools say they have had enough of working without a contract from the district and have held several rallies.
"We are hoping to bring attention to a major issue that upsets the families of this district. As employees, we do not get the respect from our employers that we work hard for and deserve," Utica Education Association President Liza Parkinson said. "When I was on my tenth year of teaching, I was on the tenth step. Now, ten-year teachers are stuck on the fourth or fifth step."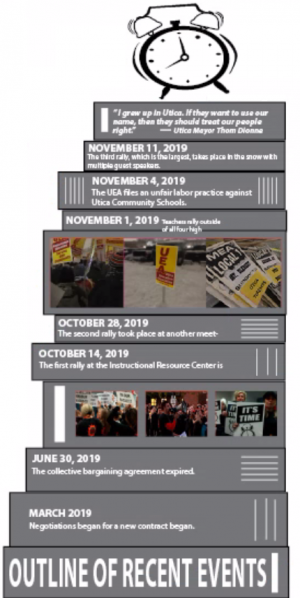 According to Tim McAvoy, UCS Directory of School and Community Relations, teachers have received step increases, half steps or off-schedule money six of the past nine years.
"This represents additional compensation or salary increases," McAvoy said.
The UEA, however, has a different view.
"It is true, but misleading, that some teachers are getting step or half-step increases. New teachers are starting out on the seventh, eighth, or even ninth step," Parkinson said. "We want to get back up on the ladder of where we are supposed to be."
Negotiations are currently in progress, but both sides are holding their position.
"It is hard to tell if [the picketing] has any influence, but anyone listening knows that it is time," Parkinson said. "The state cut funding to balance finances–which as teachers, we understood. But now it is financially stable. That means the district is financially stable. This is why we say that it's time. It is not about the money, but it is about the respect that we deserve for keeping the district stable in times when they needed us."
The UEA filed an Unfair Labor Practice charge against the district, citing multiple violations of the Michigan Public Employment Relations Act.
"An unfair labor practice is not an unusual strategy given the status of ongoing negotiations," McAvoy said. "The school district is confident it will prevail and that the facts will show that union's proposals have not been agreed to by the vast majority of school districts in Macomb County or the region. Our Board of Education and superintendent take seriously their legal obligation to be good stewards of taxpayer dollars and the importance of being fiscally solvent. Within our resources, we want all employees to have compensation packages that reflect the high expectations and standards we have for our schools. It is why UCS teachers on average are among the highest paid in the State of Michigan."
Across the district, however, teachers report a loss of a thousands of dollars in salary.
"The staff has made sacrifices to honor our students over the last nine to ten years, and we are now looking for those sacrifices to be repaid," teacher Melissa Kevonian said. "I have not had any increase in my pay in ten years. I actually made more money ten years ago than what I make now, which is unheard of in corporate America."
Members of the community have attended rallies to support the union, including politicians such as Utica Mayor Thom Dionne and Congressman Andy Levin.
"
"It is not about the money, but it is about the respect that we deserve for keeping the district stable in times when they needed us." "
— Liza Parkinson
"All across this country, teachers have had to walk out of their schools to demand a basic standard of living–in places you'd never expect like West Virginia to Colorado, all across this country–and what are we saying? We are saying that our kids in every state, in every community, demand a good public school education. That's all we want. We're not going to have it going forward if we don't treat our teachers with dignity," Levin said. "I can't believe that people are ten-year teachers and in step four or five in the pay scale. There is no justice in that. I just have one thing to say to UCS. This is a school district with a great reputation. It does a great job. All we need to do is treat our teachers with respect. Show our teachers what we deserve. And everything will be just fine."
The fight for a contract is seen by many educators as a fight for their students.
"Teachers in this district want to do what is best for our kids and that we want to make this a place where families want to bring their kids to school," Kevonian said. "By honoring teachers it promotes the district and it promotes the community. I think that's a necessity."
UEA organizes rally at Board of Education meeting
From elementary schools to secondary, educators across Utica Community Schools united for a major yet personal issue: contracts that include everything from class sizes to salaries. During the past two Board of Education meetings, many teachers rallied outside with signs, candles, chants, and displays of protest. This time was different.
On Monday, Oct. 28, the Utica Education Association rallied outside of the Instructional Resource Center (IRC) before and after the Board of Education meeting.
"The state has restored Utica's funding, so it's time. It's time for our voice, for our kids, and it's time for us [UEA members] to get respected," UEA president Eliza Parkinson said to the rallying crowd. "We have made a lot of good noise outside, so now it is time to make a quiet message as we walk into that board meeting."
Approximately 1,000 attended the event; teachers were joined by supporters including family, friends, and even students. Various news outlets were also in attendance.
"We are involved in ongoing negotiations with the association leadership," Tim McAvoy, Director of School and Community Relations, said to Fox2 Detroit. "We're committed to the bargaining process; we respect the negotiation process and we're going to work very closely with the union leadership on an agreement."
After walking with signs before the meeting, teachers silently protested while Utica Community Schools' audit was being read. They stood up and displayed signs that read, in all capitals, "$65 MILLION ON OUR BACKS!!!" while facing their backs to the Board of Education. Then they began to snake the back of the room while holding different colored signs that said "TIME," "IS," "ALMOST," and then teachers that were sitting down stood with red signs that said "UP."
While the district and UEA continue to work together to settle a contract, specific information cannot be revealed by the teachers or other administrators. A bargaining team is set in place to create contract between the UEA and the Board of Education.
"We do respect the collective bargaining process," McAvoy said to Channel 7 News. "Bargaining in good faith means that details of the negotiations are kept at the table."
UEA members will be picketing outside all four of the district's high schools from 6:45 to 7:45 Friday morning.
View 1 Comment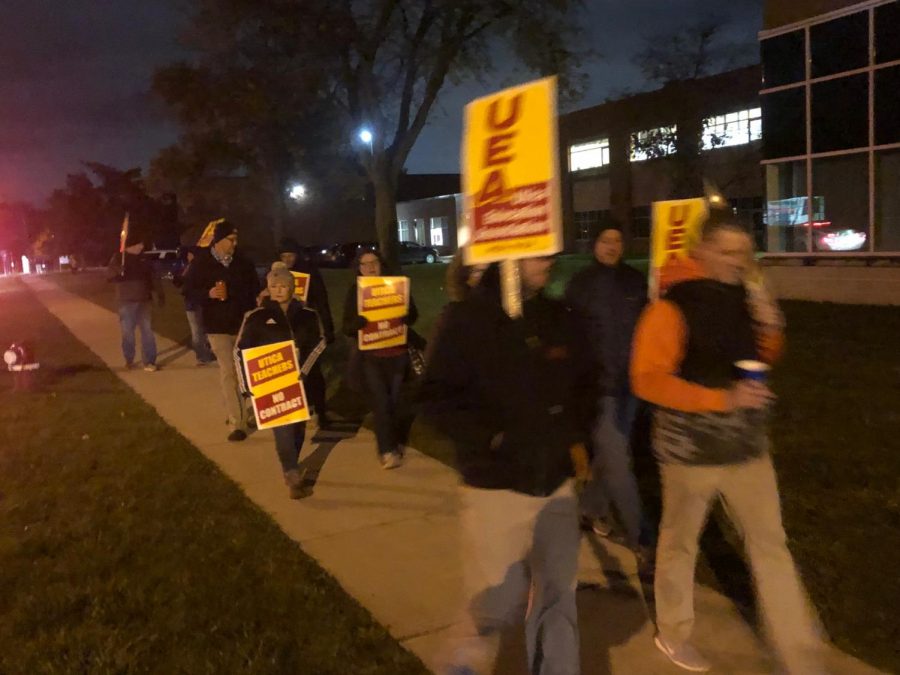 Teachers gather in front of Utica for another rally
Before the school day began on Nov. 1, teachers across Utica Community Schools gathered at Utica High, as well as the other three district high schools, for yet another picket rally.
Students observed as faculty walked the sidewalk along Shelby Road with signs and a message for others to hear. While negotiations have been underway for some time, many were unaware that UCS teachers have been working without a contract, and have reported several years of pay freezes.
"At first I was really surprised but also very confused," senior Lauren Kerr said. "I'm glad the teachers are standing up for what they believe in, because they deserve better."
Negotiations for a new contract are in the works, and teachers are hopeful their bargaining team will come to an agreement with the Board of Education's team by Nov. 3.
"Our teachers should be paid appropriately for the work that they are doing," sophomore Antonio Capelj said. "As long as they believe in what they are fighting for, then I say go ahead."
More updates will follow on contract negotiations as they occur.
Leave a Comment