Yearbook staff completes publication from home
Editors scramble to edit proofs, finish pages and add COVID-19 content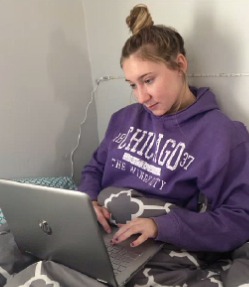 Michigan schools were closing, and within minutes of the governor's announcement, senior Ashley Siluk was texting her yearbook adviser, Stacy Smale, to figure out how to move forward. As editor-in-chief of the yearbook, her job description changed dramatically–literally overnight.
"I was stressing out because we still had so much to do," Siluk said. "When we went to school the next day, all I could think is, 'We need to get this yearbook done ASAP.' We we were already so close, so a bunch of the editors got their homework for the closure and we spent the rest of the day getting everything prepared to work from home. As soon as the bell rang at the start of my yearbook class, it was "go, go, go" for the next two hours."
The staff made sure all photos were uploaded, and anything of importance that was normally left in the journalism lab was brought home, just in case.
"
I think the editors did a great job finishing the book, we did a great job communicating with each other and staying up all night to get what we needed."
— Senior Ashley Siluk, Editor-in-Chief
"Everyone was running around trying to get quotes from students," junior editor Clarissa Rose said. "It was super crazy, but we managed to get almost all of the information we still needed on just that last day.
Editors also made sure they could maintain communication with the entire staff from home.
"Ashley created a GroupMe," Smale said, "and we figured that would be the easiest way to gather information and ask each other for help. In the end, this turned out to be an invaluable tool for the staff, and I'm not sure how we could have finished the book without it."
"
The most difficult part of completing the book from home was wanting to interview people, and having the resources to contact them."
— Senior Julia Clements, Editor
Principal Thomas Lietz said he was confident the staff would finish the book.
"Never had a doubt," he said, "not for a second."
While many students were in limbo, not knowing how school would proceed, the Warrior yearbook staff knew one thing for sure: they were going to finish book for their community, no matter what.
"By reminiscing on the fun memories we did have in school," Siluk said, "we don't have to dwell on the things that didn't happen. The yearbook will showcase our student life and school spirit, so we can have those memories whenever we look back at the yearbook."
Working from home, the editors worked throughout the following weeks to complete the book.
"I feel like most people helped as much as they possibly could," senior editor Julia Clements said. "Everyone would come together and get quotes from people especially when only a few people had contact with them. Many would text and ask what they could do to make things easier."
Some editors found themselves with new tasks.
"
The staff worked really well with the editors and each other to ensure that we not only finished the book, but still maintained quality to provide students with the best book possible."
— Junior Trin Lupu, Editor
"Most of my time was spent working on the layout and editing of the index/year in review and writing a feature story about how COVID-19 impacted the education system, as well as designing a timeline to show the impacts within Michigan," junior Trin Lupu said. "I spent a good chunk of my time going through pages as I edited the copy and redesigned a bit since we had to move some topics around to other pages."
While news of businesses closing down, Siluk was concerned about the possibility of the book not bring printed before the end of the school year.
"I wanted all the students to get their yearbook," Siluk said, "so we had the memories of our year sooner, instead of getting it in the fall when they've moved on with their lives."
Siluk divided tasks among her editors, and they immediately got to work.
"At home I had to get quotes and photos from students at our school," Siluk said, "and proofread the pages so I could communicate with the editors."
Finding new ways to complete the book was a priority for the staffers.
"
The most difficult part about finishing the book from home was editing on my laptop. I don't have a mouse, so it was sometimes difficult and tedious work."
— Junior Clarissa Rose, Editor
"I had a difficult time trying to get quotes from students through social media," Lupu said, "since we couldn't just walk to their classroom to ask them questions, like we normally do."
Technology was also a concern for yearbook staff members, especially junior editor Cassidy Eskew, who does not have her own device.
"I have a reputation of breaking technology; I've broken two laptops and many phones and iPads in the past, so getting one the laptops to borrow from the school was out of the question for me," Eskew said. "It was also difficult to contact certain people, especially if they don't have social media, since it was our main way of contacting someone if we didn't have their phone number."
Despite challenges, the staff is proud of their work.
"I feel our staff worked very well, despite the fact that the school shutdown was very sudden and surprising news," junior editor Kristina Thorne said. "The last weeks leading up to submission are very important and the fact that most of our staff was communicating and being very helpful showed how well we all can come together to reach a common goal."
While the staff worried about meeting their deadlines, Lietz knew they would complete the 2020 Warrior yearbook.
"I'm grateful for the incredible dedication of the Warrior staff," Lietz said. "Top to bottom, they're incredible; their dedication is second to none as, I'm confident, is the final product. I can't wait to see my yearbook."
"
By far, the most difficult part was reaching out and getting interviews during the shutdown. I had to use four or five different forms of media to contact people for our stories and captions."
— Junior Kristina Thorne, Editor
Smale said she couldn't be more proud of her yearbook staff.
"Everyone really pitched in to not only complete the pages we had planned, but to add last-minute COVID-19 coverage," Smale said. "This year's theme is '2.0' to showcase the many changes that occurred this year. We didn't realize at the time how perfect that theme would turn out to be. Trin [Lupu] rewrote our closing theme copy, and it really summed up the year perfectly, stating that students were prepared for life, 2.0"
In an email, Lietz told seniors that they could pick up their books on May 27 and 28, when they do their final drop offs and pick ups from the school. It is unknown when underclassmen will get their books.
"We're just incredibly limited by what concern for public safety and state executive orders dictate," Lietz said, "but, we'll find a way. We always do."
"
"Personally, the most difficult part of finishing the book from home was the fact that I didn't and still don't have my own personal device to use. I had to ask my sister if I could use her computer.""
— Junior Cassidy Eskew, Editor
Leave a Comment
About the Contributor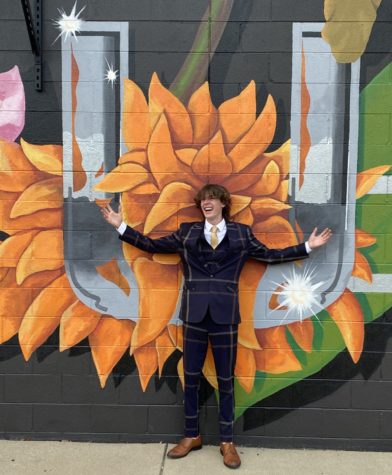 Ethan Smale, Editor in Chief
Ethan Smale is a senior at Utica and is the Editor in Chief for the news staff. He's a funny guy that loves to mess around whenever he can. He doesn't...