Bodybuilding
Hard work pays off for senior Anthony Nigro
At five o'clock in the morning, the alarm clock goes off and it's time for senior Anthony Nigro's first meal of the day: seven eggs and a bowl of oatmeal. Then, it's off to the gym to work out before a long day at school. Once school gets out, Nigro heads back to the gym for a second workout. To recover, he eats a protein-packed dinner consisting of chicken, fish, brown rice and a protein shake.
Nigro has competed in several competitions and has placed first in all of them.
"It is really cool to be able to compete at the national level," Nigro said. "The competition at the teen level of Bodybuilding is crazy this year."
After competing at the local and statewide levels, he looks to prove himself nationally against tougher competition. The national competition is set for July of 2015 in California.
"Bodybuilding takes a lot more dedication than people think," Nigro said. "Sure the workouts are hard, but the strict dieting is probably the toughest thing to do."
Nigro eats five meals a day consisting of strictly steak, chicken, eggs, oats, brown rice, fish, and supplement. He takes in two thousand calories a day, and one thousand when the competitions are around the corner.
"I've never done any kind of body building," teacher Kyle Rojeski said, "but I know some people that have and it takes unbelievable discipline to diet for a bodybuilding show."
Nigro started bodybuilding because his brother did it when he was his age. His motivation is to do better than his brother; and at this rate, it looks like he will accomplish that goal.
"My personal trainer is a huge help," Nigro said. "He has had experience training other body builders, so he really knows what he is doing."
Nigro and his trainer work out together at Lifetime Fitness, a local Shelby Township location.
Currently, Nigro already has one sponsorship. The sponsor is a supplement company called "Division Supply." A sponsorship can be earned by competing well in competitions and the sponsors are usually a supplement company or a general fitness company. The sponsor pays for the athletes meals, supplements and any other training necessities.
The upcoming national competition will be a great opportunity for Nigro to earn more of the sponsorships he has worked so hard for.
"I am going to compete to the best of my ability," Nigro said. "If I get any more sponsorship offers, then I will be happy, but I am mainly focused on winning the competition."
Nigro is confident that all of the training he has done combined with his determination will lead him to future success. With the support of his friends and family, he will keep working toward his goal of becoming the best bodybuilder in the nation.
About the Writers

Anthony Kesto, Editor
This year is Anthony's third year on the Arrow staff. He likes long walks on the beach and playing with puppies. Anthony enjoys writing about sports as...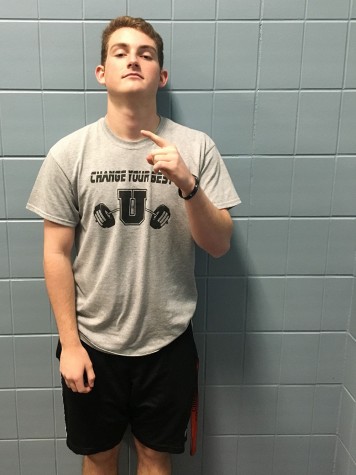 Mario Sarti, Reporter
This is Mario's first year being a part of the Newspaper staff and he is a senior. He plays on the varsity baseball team and enjoys watching sports and...