Teacher Anthony Sader's Instagram followers, merch sales grow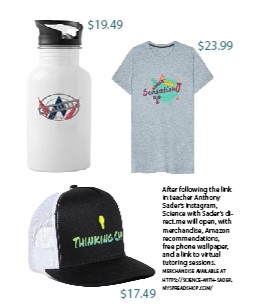 Teacher Anthony Sader's Instagram account has been gaining in popularity, with his followers being none other than his students.
"I started the account before I started working at Utica, on March 25, 2017," Sader said.
His content showcases what happens in the high school setting where he teaches.
"It started as a way to document or remind myself of all the different experiments or hands-on things that I do in class," Sader said. "It's kind of like a yearbook in a way, but just all science."
Students think positively of both Sader and his Instagram account.
"I really like Mr. Sader," sophomore Amy Williams said. "He's a very good teacher who knows how to engage his students in what we're learning. I think his Instagram account is very fun and is a nice way to show what kids are doing in class."
Since Sader posts often, many students check his account every day.
"His Instagram is really funny and he posts a lot of interesting stuff," sophomore Scott Forte said. "One time he posted something that said something like, 'If you're having a rough go, you should take a break and talk to someone.' It was really nice of him to care enough about his students to do that."
Usually, if students found their teacher's social media, this wouldn't be the reaction. However, @sciencewithsader is different because of the students' involvement in the account.
Sader also offers merchandise to his students.
"We started the merchandise last year because students were impressed by my Instagram account," Sader said, "and they said that I needed merchandise."
The students' idea then went into action after convincing their teacher.
"A student created a design and I knew of this website where all you need to do is upload it and it does everything for you," Sader said. "It's called Spreadshop. It creates the product, it ships it, and takes care of all the transactions for you. It's really easy."
Students are fans of Sader's merch.
"His merch is pretty funny and very original," Williams said. "I haven't seen any teachers do something like that before."
Overall, Sader's involvement on social media has made a positive impression on students.
"I think more teachers should do what Mr. Sader's doing," Williams said. "I think it's a great way to showcase what his students are learning and doing. It makes the class a lot more fun and engaging for everyone."