Motivated by their excitement for the homecoming game and dance, students go all out for spirit week. Things like full face paint, bodies covered in handprints, and DIY-designed shirts prove that these students are very enthusiastic and passionate about showing school spirit.
Friday was a fan favorite this spirit week, students were asked to show their support for the school by wearing Utica gear or colors. Nearly everyone participated, but there was one student who caught everyone's eye. Sophomore Quentin Bletl was the center of attention Friday, he had painted his entire face orange to show his support for Utica.
"Everyone else was painting their faces," Bletl said, "my friend wanted to paint half my face and I said, why not just do a full face? I enjoyed it at first, but it was annoying later on since it took two hours to remove when it only took two minutes to apply," Bletl said. "It was my favorite moment of spirit week because it was funny."
A couple of students seemed to find this year's spirit week boring or underwhelming.
"I don't wanna be mean," senior Farrah Alhasan said, "but I didn't really like it this year. It was a little boring."
"It was fun, but kind of similar to previous years," junior Yana Jani said. "A bit on the boring side, but still fun."
Students recall their favorite spirit days.
"Comp day was my favorite because the entire thing was fun," Alhasan said. "It made me feel excited to be a senior."
"My favorite was class color day," freshmen Isabella Dawood said. "It's the easiest to go all out for."
While the students had favorites, they also disliked some spirit days.
"I don't like vacation day because school is a full-time job," sophomore Landon Cooke said.
"Decades day was my least favorite," Jani said. "I feel like we do it every year multiple times and it just feels boring to do it again."
"My least favorite was decades," Dawood said. "It was hard to dress up for."
Both teachers and students compare previous spirit weeks to this year's.
"This year was different," teacher Collin Syler said. "The senior parade was a lot more hyped than last years."
"My first spirit week at Utica was good, everyone showed lots of spirit and it felt like I was a part of a community," Dawood said. "There's lots more participation here, than there was at my old school."
"Seniors showed the most spirit this year because they just went all out with outfits and things like that," Syler said.
Teachers and students recall their favorite Spirit Week moments.
"Comp day was the best moment of spirit week for me," Dawood said. "It was really fun and I did the water balloon toss."
Teachers mostly enjoyed the senior parade.
"My favorite spirit week moment was definitely the senior parade," Syler said. "It was fun to see my students from last year so hyped and excited that early in the morning."
A majority of students had an appreciation for the homecoming game and parade.
"Game day and the parade were my happiest spirit week moments," Alhasan said. "They were both really fun and I got to be a part of the parade."
60 students, 20 kids each from the sophomore, junior, and senior classes were surveyed on their favorite and least favorite spirit day from homecoming spirit week. Their options were class color, decades, neon, vacation, and Utica gear day. Class color day was voted most favorite by 39 students, but decades day was voted least favorite by 29 students. From those interviewed, class color seems to be a favorite because of its convenience. Decades day was pretty much the opposite, kids found it difficult to dress for this day, therefore they didn't enjoy it as much.
While decades day was not a fan favorite, there were some students who still love decades day.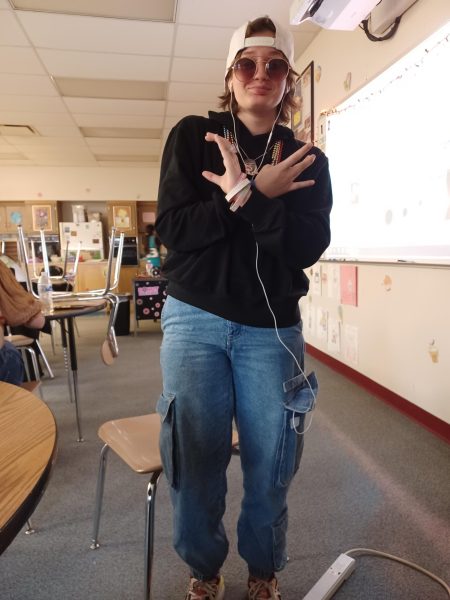 "It was just so fun because you get to represent your favorite decade," sophomore Evyn Kelley said. "You can dress as your mom or a celebrity like I did. I dressed as Eminem, and I looked pretty cool and hot."
"Decades day was my favorite," sophomore Daisy Ford said. "I love the 90's."
Principal Timothy Youngblood shares his thoughts on this year's spirit week.
"I thought the senior storm was better than last years it was nice that they went up and downstairs instead of just through one hallway." Youngblood said. "I love that they added chicken little to the dino race for comp day this year, I wouldn't mind adding another character or two next year. The seniors had the most spirit, definitely."
Students on sports teams also love to participate in spirit week.
"Cheerleaders give the most during spirit week," Kelley said. "We're putting on a show for everyone."
A student athlete talks about getting to participate in the game and parade.
"I'm on the volleyball team and comp day was fun because I got to be on the field and a part of a team," junior Angelina Williams said. "I also got to be in the homecoming parade."
One student athlete doesn't think being on a sports team affects his spirit week.
"I play football and honestly it doesn't affect spirit week for me," junior Manuel Dalliy said. "I just participate like normal."
Student athletes talk about how being on a team brings them together and brings more participation to spirit week.
"I do cross country and being a part of a team get us all celebrating together," senior Addison Johnson said. "We're like a family."
"I'm on the softball team and I think being on a team gets people more involved in spirit week, especially sophomores," senior Kenadi Hazen said.
When asked to describe this year's spirit week with one word, "casual" was most commonly used among students. This year didn't live up to people's expectations, but why. It's obvious decades day threw most students off and made spirit week less enjoyable.
Although it wasn't a fan favorite, homecoming spirit week was still very exciting for the students. Sophomores and freshmen got to experience it for the first time, and they almost all have positive things to say. To contrast, seniors and juniors prefer previous years, but a lot of them still had a great time this spirit week.
Overall, there's mixed emotions about spirit week. While it might not have been everything the students dreamed for, they certainly loved homecoming. Most even said that the dance, game, or parade were the highlights of their spirit week this year. It's great to see such positive feedback since there was lots of hard work put into these events.
Hopefully the school's next spirit week gains nothing but positivity and excitement from the students and staff.