From student to colleague
Being the new person in most situations isn't the easiest of things to get through. Navigating yourself around a strange place surrounded by unfamiliar faces is frightening all on its own, but for economics teacher Holly Yucha, her transition went quite smoothly.
As an alumna, Chieftain pride runs in Yucha's blood. After previous economics teacher, Steve Schaffer, left to pursue a career as a lawyer, Yucha was asked to fill the position; leaving her previous job at a Fraser school to teach the eleventh grade economics class. Yucha was overjoyed for the change, as well as the new challenges ahead.
"I really liked teaching at Ford before I was laid off and began working at the Arts Academy in the Woods in Fraser," Yucha said. "But I'm really excited to be back at Utica. It was a very welcoming change of pace."
Though the school has had a few alterations from the last time she walked the halls in 2008, meeting new colleagues and revisiting with previous teachers makes the whole experience quite comfortable.
"It's weird to see the other side of the curtain," Yucha said. "Everyone is so nice and excited. Mrs. Boice is more of a friend than a teacher or a colleague; my first day here she brought me a bunch of stuff from the school store, which I also helped run when I went here."
As odd as it may seem to come back to your old high school, there was a sense of comfort in the whole thing. From a cheerleader, member of theater and multiple clubs, to a teacher at the school she graduated from is possibly one of the most pleasant and rewarding things to be able to experience.
"I went back to my old school to teach, as well," principal Tom Lietz said. "You know most of your peers and you have a lot of comfort around you. You're in a familiar setting and kind of know what goes on there."
Comparing and contrasting Schafer and Yucha's teaching styles, you will find a few differences; but for most of the students, the friendliness, excitement, and professionalism was never lost.
"She is a much more challenging teacher than Mr. Schaffer," junior Colin Baker said, "but Mrs. Yucha really knows what she is doing and teaches her classes very well. She can joke around and have fun with the class, but still manages to stay on task."
A number of her students can agree that her arrival was quite sudden, but her ability to jump right into everything is impressive. She is able to go over important topics that weren't previously covered; as well as, prepare students for exams and future events in an organized manner.
"It was probably really difficult for her to start in the middle of the semester," junior Maia Gjocaj said. "She did a really good job of getting us prepared and she really cares about her students."
Going from one curriculum to another, one group of recognizable students to a completely different room of faces may seem intimidating, but Yucha managed the last minute change with grace.
"She's working very hard," Lietz said. "I can't imagine being put into the middle of a school year and curriculum with only a weeks' notice."
With a goal to give students the preparation and confidence to face college, Yucha is striving for greatness.
"She is able to understand what the kids are going through and can meet them where they are," Lietz said. "She comes in with the advantage of being a former Chieftain. Once a Chieftain always a Chieftain, and she is definitely living up to that one."
Leave a Comment
About the Contributor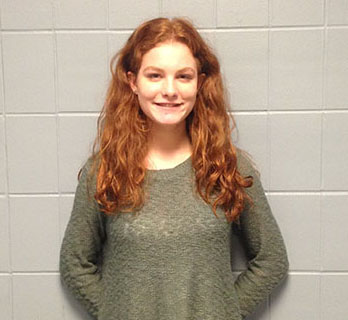 Annabel Aquino, Managing Editor
Annabel Aquino is the managing editor of the Arrow newspaper. As a senior this is only her second year on staff. Although she enjoys writing and designing...