Top athletes recognized for excellence
Students all over Utica have been playing hard and working harder, from running to gymnastics to softball. Students are rolling in scholarships and records. Whether its through school or not, the Chieftains bring it in every sport.
Because universities are so expensive to attend, students will do anything to help get them through it. Some students choose to do it through academics, while others use their athletic gifts to help finance school. Several outstanding athletes have been recognized for their abilities, and it's paying off.
Double paying scholarships
The ball goes low. It's a grounder; with quick grace and no error, senior Sarah Mauser quickly scoops it with her mitt and throws it to first base to get runner out.
Mauser has just signed with the University of Detroit Mercy, with a fifty percent scholarship for softball and the other fifty for academics. Michigan State University also had some interest in Mauser, but she liked the small school feel over the feeling of a large university.
"I got the academics part primarily for my high ACT score," Mauser said. "I got the softball scholarship through hard work and determination to my sport. I'll most likely be playing shortstop at Detroit Mercy."
Mauser plans to major in mechanical engineering through Mercy's five-year bachelors and masters program, which means she'll have a masters degree in mechanical engineering in five years instead of six.
"Going to Detroit Mercy, I can help improve their softball program, whereas State already has a good program," Mauser said. "I'd rather be making history opposed to just being apart of it."
Running to the top
Fist pumping as he came through the finish line, senior Andrei Rotar knew he had just beaten the school record for a 5K, with a time of 16:11. He broke the school record by four seconds.
"When I saw the clock, I started sprinting the last 100 meters while not taking my eyes off the clock until I crossed the finish line," Rotar said. "I was so excited that it felt like there was weight lifted off my chest."
Along with gaining the number one spot in the Utica cross country record book, Rotar has been offered scholarships to Macomb Community College, Madonna University, Albion College, Marian University, and Oakland University.
Macomb is offering Rotar ten credit hours, and Marian is offering him a $10,000 scholarship for him to come run for them. He intends to visit Madonna, Albion and Oakland soon to talk with their recruiters and coaches.
"This year, I hope to make the all-state track team," Rotar said, "along with going to states in as many events possible, and making it to team states again."
In addition to doing well as a team, Rotar is also striving to beat the mile and two mile records during this upcoming track season.
Rotar's running will be a huge lending hand in his college career, as well as a huge factor in deciding what college he goes to. Having been a dedicated runner since junior high school, he has no intentions of giving it up.
Rotar is happy to have left a permanent mark in something he loves. Leaving his name forever in the Utica history books, Rotar keeps on running.
Vaulting over the competition
Many may know Jessi Juncaj as the friendly, outgoing girl in the hallways and classroom, but not as many know her as the hardworking and determined girl in the gym.
"It feels good to see my dreams of college gymnastics come true," Juncaj said. "All my hard work has finally paid off."
After years and countless hours, allof her hard work and training has finally paid off. Juncaj signed for a full-ride scholarship to Western Michigan University for gymnastics with Penny Jernigan.
"The coach from Western came to a few of the camps I was at," Juncaj said. "After seeing me a few times, he decided I would be a good fit on his team and offered me a scholarship."
At first offer, Juncaj was skeptical and unsure. She didn't decide to take the offer until she visited campus and saw what Western really had to offer, from the overall campus feel to the training facility they had for gymnastics.
"I am really excited to be able to meet new people and travel around for gymnastics," Juncaj said. "Also, for the larger scale of competition."
In addition to hitting the gym several times a day, Juncaj will be majoring in business. With a full-ride, the stress of paying for college is releaved, but being there for a sport is a whole other level from where she's currently at.
"My main goal is to be able to contribute to the team," Juncaj said, "but also to set records as a team."
Leave a Comment
About the Contributor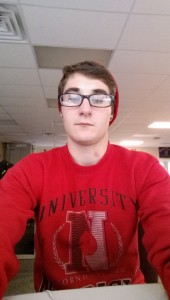 Dylan Hamilton, Editor-in-Chief
Editor-in-Chief. This is his 3rd year on staff. Being editor-in-chief not only is a great leadership chance, but also a real-world job experience as well,...