VARSITY BASKETBALL UPDATE
Boys varsity sees huge success leading the MAC Blue, girls varsity works on rebuilding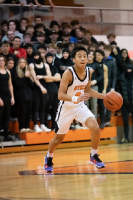 The basketball season is in full stride and the boys and girls varsity teams need an update.
The girls team is in their a "rebuild phase" after losing many of their seniors from last year.
This year's team is young with only three seniors, one sophomore and eight juniors, and for most it's their first year on varsity.
"We're still learning to work as a team," junior Addison Stuehmer said, "and through each game I feel we've gotten better and better."
It's hard to work with a team when you haven't built strong relationships with them.
"It's just nice to get close with the girls, this being my first year," junior Addy Johnson said. "We're just trying to work hard."
Building a bond with the team has proven to be beneficial with the team's chemistry.
"This season has been more of a rebuild after losing eight seniors," senior Natalie Shtogrin said. "I'm just proud of how people have stepped up."
A rebuild like this will prepare this girls team for the struggles next year will bring.
The boys team, on the other hand, is bringing out huge success and triumph, compared to last year's season. Last year ended with a 7-14 record for the boys, and now they are already far ahead at 10-3, finishing week 7.
"We've got good chemistry; lots of guys doing their part," junior Mason Brodi said. "We're just winning and having fun doing it."
Success comes with a team working together and this year's team has stuck with each other through every game.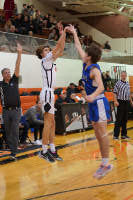 "What's great is we know how to balance fun and hard work," senior Trent McFarland said. "It gives our team great chemistry and it helps us succeed."
Even though playing a sport like this can be very serious at times, they manage to have fun.
"Nik Gojcaj is my favorite teammate," junior Mason Brodi said. "He just brings a different aspect to the game that makes it more fun."
To Brodi, Nik is important on this team.
"I feel like I have a big role on this team," junior Nik Gojcaj said, "getting rebounds, feeding my guys and helping us win."