Daddy's Doughnuts serves a fresh dozen
Adhering to a New Year's Resolution of a diet without junk food got more difficult this year with the opening of the brand-new doughnut shop, Daddy's Doughnuts, in Utica.
The bakery, located north of Hall Road and east of Van Dyke, serves fresh, made-to-order doughnuts from 6 a.m. to 1 p.m. Tuesday through Sunday.
Founder and owner Omar DeMara discovered the concept of customized, made-to-order donuts while on vacation in North Carolina.
"I thought, 'what a cool, interesting concept,'" he said. "Macomb County doesn't really have these types of places – you typically see them in Troy, Royal Oak, Ferndale, and downtown [Detroit]. I wanted to bring that here with some new flavor profiles."
Daddy's Doughnuts certainly has a unique menu full of plenty flavor combinations. According to DeMara, there are over 2,000 different flavor combinations that customers can create by choosing different coatings, drizzles, and toppings for their doughnuts.
Our news staff was able to try each flavor of the "Daddy's Dozen" (below) thanks to Daddy's Doughnuts, and we were not disappointed.
The eclectic mix of doughnuts ranged from sweet to tart to savory, and each staff member had their favorites.
Five staff members chose the Samoa doughnut as their favorite from the Daddy's Dozen, with S'mores at a close second with four staff votes.
"My favorite doughnut was the S'mores doughnut," guest reporter Haley Grooms said. "In my opinion, it was good and not overly sweet, either. It tasted exactly like a s'more, to be honest."
The Breakfast doughnut, although it is one of the shop's most popular selections, divided the staff, with some loving it and others concluding that it wouldn't be something they'd order again.
"I didn't like the Breakfast," guest reporter Abby Jenkins said, "because the bacon didn't taste good with the frosting."
Other staff members, however, loved it.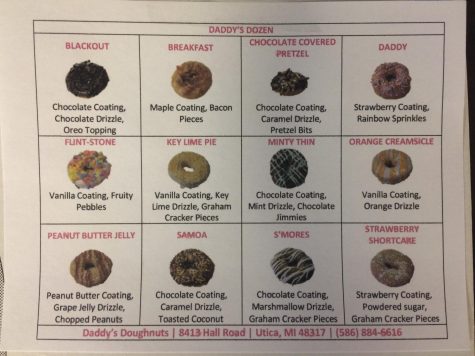 "The breakfast doughnut was my favorite," guest reporter Joey Heck said. "The blend of maple [coating] and bacon bits really delighted me."
Overall, the Arrow 's news staff was pleased to try Utica's newest bakery, and many of us will be back.
"I'll definitely be buying doughnuts from [Daddy's Doughnuts] now," social media editor Nicole McMenomay said, "instead of Tim Hortons."
We would highly recommend any student, staff or community member visit for unique doughnuts that are sure to put a smile
on their face. After all, it's DeMara's goal as a business owner.
"There's so much negativity in things in the world right now," he said. "That's really what we want to do – bring happiness to people. Even if it's an escape for five minutes and people come in, get a fresh doughnut their way – if it makes people smile, then we did our job."