Taking care of business
After advancing to nationals, DECA students travel to ATLANTA and return with a TOP TEN finish.
With many previous national recognitions, Utica's DECA team has returned to the national competition and has continued to build up their reputation. The team competed in two competitions around Michigan including districts and finally states, where seven students qualified to attend nationals. The competition was held in Atlanta from April 21 to 24.
The group traveled down to nationals on April 20, when the DECA events began. Although the competition was four days, they hosted other festivities for the competitors to enjoy, including a concert and other attractions.
The traveling team consisted of seniors Liam Hart, Mariana Merandi, and Stone Tanner, and juniors Kendall Avis, Stephanie Curnow, Jacob Joseph, and Elizabeth Mittag.
While in Atlanta, the team was able to bond and spend time in the city with DECA adviser Dan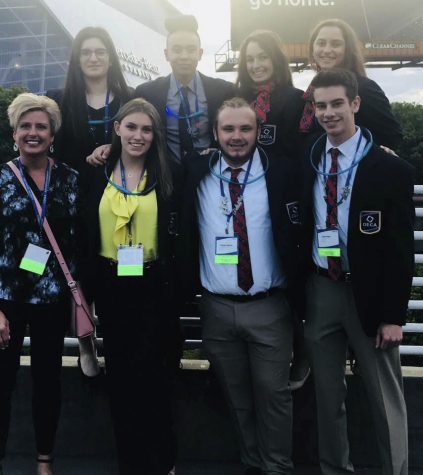 a Boice. From restaurants to museums, the team had plenty of activities planned for this trip.
"My favorite part about the trip was just spending time with my friends," Mittag said, "and getting to know them better."
The team was also able to visit a variety of places, one of which included Lenox Mall in Atlanta.
"The mall was really cool and big," Joseph said. "The mall included tons of shops that made me spend a lot of money."
They also visited the Georgia Aquarium and Zoo Atlanta.
"The whale sharks are the coolest thing I've ever seen," Hart said. "It was a really cool experience."
Finally, on Monday the team took the stage to present to the judges, with each presentation focusing on a different aspect of business.
"We all cheered each other on when we competed," Mittag said, "and it just made everything so much easier."
In the end, Avis and Joseph advanced into finals and placed top ten with their School-based Enterprise–Retail Operations presentation.
"Being announced top 20 was an amazing feeling," Joseph said. "But when we got called for being top ten in the nation it was such a rush of excitement."
Boice also enjoyed the trip to Georgia.
"Hard work pays off' is our motto for Utica DECA, and it sure did," Boice said. "I'm so proud of everyone who competed at the national level."