Arrow print news inducted into Hall of Fame
Michigan Interscholastic Press Association recognizes newspaper for continuous top honors
After consecutively earning top honors from the Michigan Interscholastic Press Association over the last ten years, Arrow student newspaper has been inducted into the Student Media Hall of Fame.
Current members of the news staff joined adviser Stacy Smale and principal Tom Lietz at the spring awards, as well as several  alumni, on April 23 in Lansing.
Utica has had a long history with journalism when the Arrow was founded in 1930, adding full color in 2005, and in 2013 launched the Arrow website.
"It was a really cool experience and I had a really good time," junior Evan Gray said. "I can't wait to go next year and have even more fun."
In order to be inducted into the Hall of Fame, a student media outlet needs nine Spartan Awards in the time frame of 10 years. Spartan Award is one of the highest awards recognizing student journalism in Michigan. 
 The MIPA Hall of Fame was created in 2002 to recognize student media.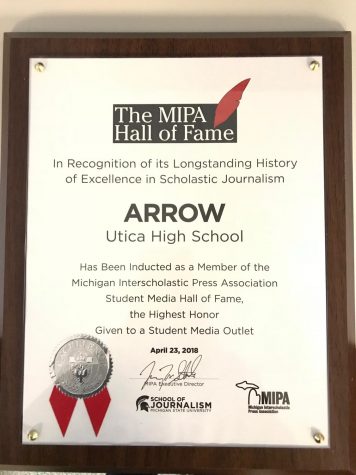 Arrow staff earned Spartan Awards for their newspaper in 2017, 2016, 2015, 2014, 2013, 2012, 2011, 2010, 2009, and 2008, along with many other Spartan Awards. The staff also earned another Spartan this year.
"It was cool seeing all the awards,"  junior Mackenzie Malone said. "I didn't know there were that many. I was really excited I got to hang with all my friends in journalism, and I can't wait to be a part of the Arrow next year."
The staff received a plaque to display in the school.
"It was a really cool experience," junior Arianna Palusha said. "I can't wait to go back next year."
Editors remind their staff members that being a part of the Arrow is an honor and a responsibility to uphold the outstanding tradition of its newspaper program.