Physics comes to life at Cedar Point
Many students are curious as to what they learn in school applies to real-life scenarios. The physics class got to see the physics in roller coasters first-hand when they visited Cedar Point for a day of learning and fun on Ma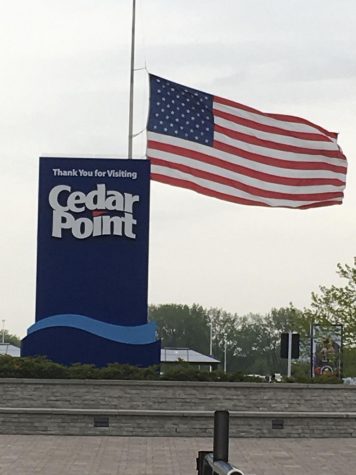 y 22.
"I was upset when my alarm wen off [at four in the morning]," junior Chloe Spaulding said, "but it was a good trip nonetheless."
When the class arrived at the park, a worksheet was handed out and groups were formed to explore the park and to collect data from certain rides. Riding the rides were not necessary to complete the worksheet.
"It was basic physics we learned in first semester," junior
Alexa Reynolds said, "but I'm glad it was easy because it gave us more time to ride rides."
The physics class was able to see what they learned earlier in the year in action at Cedar Point.
"[The physics makes sense] on the roller coasters," junior Patrick Opre said. "[Sometimes] you don't need the straps because the force of the roller coasters will keep you in."
The students had the opportunity to understand the science behind the fun and experience it as well.
"My favorite part," junior Aleena Rooney said, "was being with my friends on roller coasters and seeing their reactions."