It's shake-tastic
New restaurant adds culture to Downtown Utica
From the Chicken Shawarma to the Superman Shake, Shawarma and Shake is full of endless possibilities.
Shawarma is roasted meat that is cooked on a revolving, vertical spit and shaved for sandwiches. The Mediterranean menu offers healthy food items that are prepared fresh every day.
Shawarma and Shake, which opened April 24, features chicken and steak sandwiches and bowls, served gyro or shawarma style. Veggie options are also available, as well as a cheese wrap.
Our staff sampled five of the sandwiches that Shwarma and Shake serve: Steak Shawarma Signature Philly, Chicken Shawarma, Gyro, Chicken Gyro, and Veggie Shawarma, and every item was made to order.
"Shawarma and  Shake was fantastic," senior Elizabeth Cetnar said. "I normally just like to eat Chicken Gyro, but the Chicken Shawarma surprised me."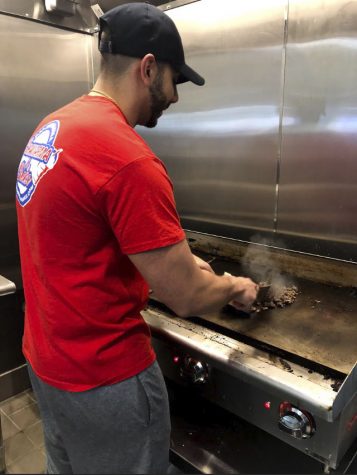 While each sandwich received votes as a favorite, the overwhelming top pick was the Steak Shawarma Signature Philly. The sandwich includes grilled chopped onions and peppers, and shredded marinated beef in melted cheese.
"I've never tried Shawarma, but it was great," senior Joey Heck said. "My favorite was the steak due to the flavor in each bite."
The Chicken Shawarma, which contains thinly sliced marinated all white meat, pickles, mild peppers, tomatoes, lettuce and zesty garlic spread, was a close second.
"I liked the Chicken Shawarma because it had a lot of spice and was really different from what I'm used to," sophomore Finn Hopkins said. "The pita bread was so fresh and paired well with the sandwich."
Senior Collin Fox agreed.
"I tried the Chicken Shawarma wrap and it was surprisingly really good," Fox said. "It was made very well."
Others, however, preferred the gyros.
"I really loved the gyro," junior Jack Wexler said. "The meat had a ton of flavor and melted in my mouth. The chips also went very well with it."
The chips, which were warm and homemade, were a hit with the staff. They can be enjoyed on their own, or dipped into a side of hummus, garlic or tzatziki sauce.
"I didn't know what to expect, but I was definitely impressed," junior Lauren Clair said. "The pita chips with different dips and sauces were really good. I would for sure go out to eat at Shawarma and Shake."
As the name implies, shakes are also a major dr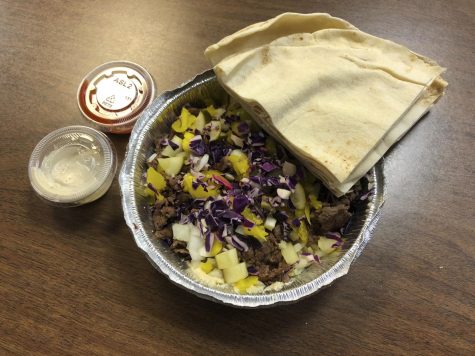 aw to the new downtown eatery. Any of their ice creams can be served by the scoop or in a shake. Traditional flavors are available, as well as Cappuccino Crunch, Green Mint Chip, Cookies & Cream, and Superman. There is also a flavor of the month.
Students agree that with its healthy Mediterranean menu, Shawarma and Shake has brought culture to the downtown district.
"This is a perfect example of why Downtown Utica's culture is so cool," sophomore Cameron Smale said. "Places like this are sure to drive in tourists."
Shawarma and Shake is located at 7660 Auburn Road, in downtown Utica, and their summer hours are Tues.-Wed. 10 am to 9 pm, Thurs.-Sat. 10 am to 10 pm, and Sunday 11 am to 7 pm. Take out and delivery options are available by calling 833-SHAWARMA.