New generation of track athletes set new school records
The talent of the this year's track team is through the roof. Several players on the team have broken school records–some that have been held for decades.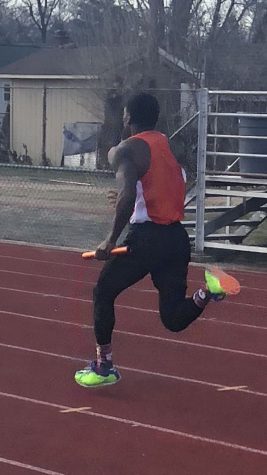 It's not just one athlete that's broken one record, either. Seniors Salvatore Narusch, Peter Milne and Kavon Higdon are shattering records left and right, making their own marks on school history.
Narusch now holds the school high jump record. The previous record was a jump of six feet, six inches. Narusch had broken it with a jump of six feet and seven inches.
"I was happy to finally be able to break the six foot six mark," he said. "I knew I had it in me."
Milne broke a track record of his own, in the 200 meter dash. Milne finished with a time of 22 seconds flat. Milne had beat the previous record by three tenths of a second.
Another track athlete has broken the 100 meter record. The previous record was a time of ten seconds and a seventh of a second. Senior Kavon Higdon finished his 100 meter dash with a time of ten seconds and a fifth of a second.
"I honestly didn't expect to break it or even get close to it," senior Kavon Higdon said. "Even though I didn't win the race, I still broke the record and was happy to do so."
These seniors are some of the best that the track team has ever seen, and will soon be ending their careers at Utica High knowing that they have records under their belts.