Hoco proposals sweep people off their feet
Evan Gray, Online Editor & Business Manager
September 21, 2018
Homecoming is always a time of joy and excitement for high school students. It's a long-standing tradition for high school students to ask each other to the big dance in elaborate ways. One of the biggest appeals of being asked to homecoming is the surprise and anticipation.
"I was super surprised that [my boyfriend] asked me. My friends helped him plan out how he was going to ask me," junior Nikole Pizzo said.  "It was super sweet, because he did it before I went to cheer at the varsity football game."
Oct. 6 is the official date for homecoming this year, and as the countdown to the dance begins, more and more people are asking and getting asked to the dance.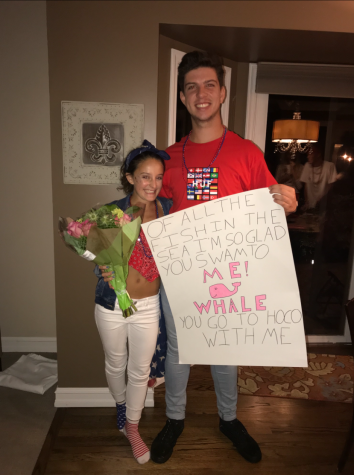 "It was honestly the last thing I was expecting to happen that day," senior Jaclyn Duff said. "[Evan Gray] asked me completely out of nowhere, but I am extremely happy that he did."
These 'proposals' are usually pretty creative and people do all kinds of different things to try and make it more memorable for them and the person they're asking.

"They are absolutely ridiculous," principal Tom Lietz said. "I don't understand the big draw toward them and why students try to make it so special."
Some people go out for these and some people do it simple; it just depends on the two people and their relationship. The main way students do it is with a sign and some type of gift, like flowers.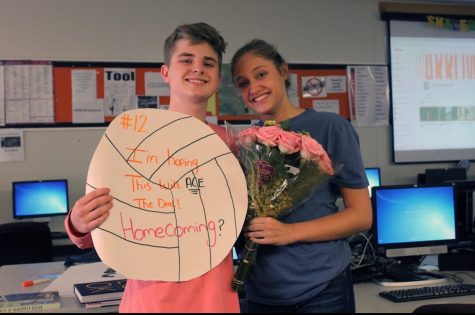 "I made the sign based off of the brand 'Vineyard Vines,' because my girlfriend[Olivia Scandalis] loves that brand," senior Johnathan Powrozek said. "Then I snuck inside her house and set it up so I would be there and surprise her with the sign and flowers."
Usually the students try to make these proposals very personal and mean something.
"I just got done with dancing and all the girls told me we were going toward the stands, which I thought was really weird," senior Julia Meguid said. "Then the announcer called my name and I saw him standing there with the flowers, and I saw the signs and it made my whole night."