Arrow named CSPA Crown Finalist
Gold and silver awards announced in New York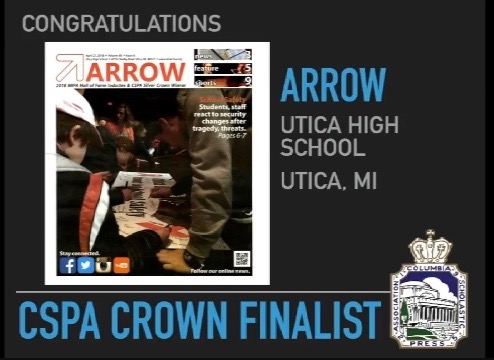 For the fourth time in just five years, Utica High School's Arrow has earned the honor of being a Columbia Scholastic Press Assocation Crown Finalist for print news.
The Crown Awards are the most prestigious awards given by CSPA, and finalists will earn either a gold or silver, to be announced in New York in March.
"The crowns are a head-to-head comparison and contrast of one publication to another. A panel of judges made these selections over several days, in a large room,  with much walking around and poring over publications. There is a great deal of discussion, and sometimes argument," CSPA Executive Director Edmund J. Sullivan said in a live social media announcement Oct. 10. "However, all decisions are eventually reached by consensus, and individual judges may and do recuse themselves from publications they feel too close to in some way or another. There is no set quota, percentage, minimum or maximum limits for crown awards. The crowns are discretionary, in that the judges only give them when they believe they are deserved."
Earning such a distinguished award is a great honor for Arrow staff members.
"I'm so incredibly proud and very excited to be a Crown Award winner again. I think that it's very encouraging for the staff to be recognized for our work as it inspires us to put forth our most creative ideas and strive to be the best reporters we can be," senior and Arrow Editor-In-Chief Madalyn Dishman said. "As an aspiring journalist, being Editor-in-Chief of such an accomplished newspaper has really helped me put into perspective  the type of journalist I hope to become and has shown me how my writing can shape others around me."
Both Gold Crown Awards and Silver Crown Awards can be earned by a publication.
"The Arrow has been such a big part of me," senior editor Arianna Palushaj said, "and winning an award like the Crown Award really does make all the time spent worth it."
News regarding the results of the Crown Awards will be shared in mid-March, when the awards ceremony is held in New York.
"To get an award from an institution like [CSPA] says that you are trying to truly give kids information that is important, relevant, and as factual as you can make it," principal Thomas Lietz said. "And that's important; that's what it should be."
The news and the excitement that comes with it has already spread beyond current staff members.
"I'm so thrilled that Arrow has won a Columbia Crown Award after a wonderful 2017-2018 year in print. Being editor-in-chief was a great honor of my high school career, and this award is the cherry on top," 2017-2018 Editor-In-Chief Elizabeth Cetnar said.
Cetnar is now a copy editor for the University of Michigan's student news, Michigan Daily.
"Last year, Arrow diversified its coverage to include issues impacting the local community and global issues and how they affected students at Utica High. I was so excited to see my favorite issue of the year, our April issue about school security and safety, as the cover chosen for CSPA's press release," Cetnar said. "I'm so proud of the entire Arrow staff for all our accomplishments last year and thankful for this award."
Awards like these speak to the worth of taking journalistic classes such as Stacy Smale's newspaper class.
"It not only is a great class, but it showed me what I wanted to go into for my career," senior online editor and business manager Evan Gray said. "My love for journalism is all put into our newspaper, and I'm very happy that mine and all the staff's hard work is paying off in a big way."
It is a point of pride for Utica High School that their student media paper has been recognized for greatness.
"I'm extremely excited and honored to be a part of this amazing newspaper," senior and sports editor Collin Fox said. "I always knew we'd do big things."