Cheering on the U
Bright lights, roaring fans, and a supportive student section. Thats what football season is all about. Utica's varsity football team has had a huge student turn out so far this year, with fans supporting their every throw, tackle, and block. Utica students are some of the best when it comes to being loud, obnoxious, and showing pride for the players on the field.
"Our student section is insane," senior and football captain Christian Gegovic said. "They come up with the best cheers and are always trying to motivate us."
Utica's student section, led by seniors Jacob Joseph, Angelo Zeolla, and Johnny Tisch, have been dedicated to making the most out of every football game.
"Our goal is to make sure we are helping people make the best out of their high school experience," senior Angelo Zeolla said.
Besides watching the game on the field, the three boys leading the cheers are a huge draw for the students.
"The boys are so unique," senior Jillian Jezek said. "They genuinely love being Chieftains and want to have fun win or lose. That hasn't always happened in past years.
Each week,The Tribe is dressed head to toe following the theme decided by the three leaders.
"The best part of football season is getting ready for the game with my friends and going all out with our outfits," senior Katie O'Connor said.
Not only is the student section loud and proud, but the seniors in the front of the bleachers are paving the way for future tribes. For years, the same banner was used to represent the Tribe, but this year the seniors gifted the underclassmen with a brand new banner.
"I believe the senior class has definitely left their mark on Utica," Jezek said. "What better way to increase that than by leaving behind a banner made by all of us."
The new banner can be seen hanging up on the stands at every Utica varsity football game. It showcases both the football team and the student section, with a special message from the class of 2019.
"Every year the students change but they always keep the same tribe mentality," principal Tom Lietz said, "always loud and obnoxious but respectful, too."
Utica High School prides itself on its tight nit community and family like atmosphere. The student section is just one of many examples that proves Utica's uniqueness
"The students are passionate and 150% behind The Tribe," Lietz said, "that's what being a Chieftain is all about."
About the Writer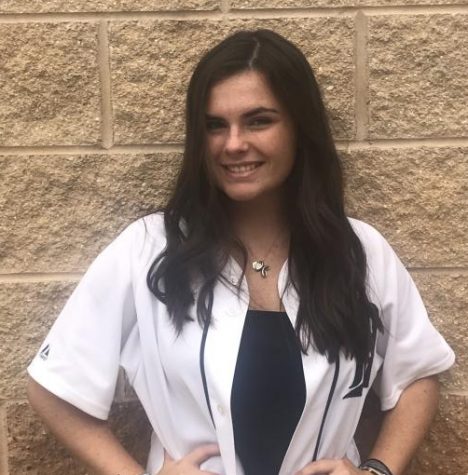 Mackenzie Malone, Social Media Editor
This is Mackenzie's second year on the UHS Arrow staff. This year she is excited to be the social media editor and write even more stories than she did...