Kicking boys soccer into MAC red
Some may assume that putting a ball in the back of a net is simple. The boys soccer team proves otherwise.
They were moved up to MAC red for harder competition and because of their proficiency in the bracket. This step up for the boys is a major move from the previous MAC white bracket.
"We have a [varsity] team of 15 seniors who are dedicated and eager to win a MAC red championship," senior Michael Simopoulos said. "We play rivals such as Ike and all the other good teams."
The intensity of the MAC red includes competitors such as Eisenhower (Ike), Dakota, Stevenson, Chippewa Valley, and Utica Ford. The team is taking the challenge well and succeeding in their bracket.
"I am stoked to be in the MAC red after being promoted out of the MAC white," senior Zachary Gallo said. "This time we are points away from being in first."
Moving up a division has encouraged the team to work harder as they face off new opponents.
"It feels great that we are in the MAC red and it's finally a competition that makes me want to play harder and score more goals," junior Sultan Makki said. "We have a great [JVA] team this year and we need to focus on our game."
All teams, JV B, JV A, and varsity compete in this new division, and all three teams will have new difficulties to perfect.
"I think Ike is going to be our biggest competition because they've been our rivals for a couple of years now," senior Ty Cerget said. "I am very confident in the talents we have and the way we work with the ball."
The boys are pleased with the new division and are excited to compete. They want to sharpen their skills and become quicker on the playing field.
"It feels really good because it gives Utica another reason to be proud because we earned our place in the division," junior Kunal Sinha said. "We will challenge ourselves more to take on tougher opponents."
The school atmosphere will brighten as the boys continue to dominate the turf. Students and even staff come to watch games and cheer the boys on.
"I love going to the games," junior Sophia Gielniak said. "Besides when it rains, I like to go and pick out people I know."
It is not easy to move into a new bracket. A change from easy to harder opponents will be a challenging step.
The Chieftains hope to prove with an astounding fall season that they belong in the new MAC division.
"When you do well, you move up to greater places," principal Thomas Lietz said. "It's always exciting for the whole school when one team is doing well."
A new MAC gives room to create new memories and possibly a new championship. Fresh seasons bring youthful players and as the years go by, boys soccer will continue to rival their competitors will fierce skill.
About the Writer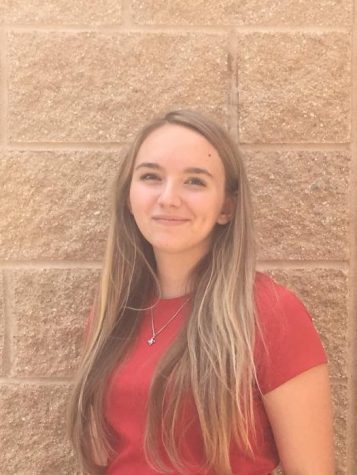 Haley Grooms, Print Editor-in-Chief
Haley Grooms is finishing off her senior year as the Editor-in-Chief of the print newspaper. This is her third and final year on staff, but hopes to make...