Theatre students compete at Thespian Festival
From Thursday, Dec. 13 through Sunday, Dec. 16, 32 students from Utica High School traveled to Grand Rapids to take part of the annual Michigan Thespian Festival. High school theatre students from across the state went to the festival to compete and get judged on their skills relating to theatre.
Beforehand, students going to the festival practiced for the event they competed in. They could compete in both acting and technical competitions. Rehearsing could be "intense and kind of crazy," as senior Olivia Fuhrman explained. Students even took time out of their other classes in order to have more time to rehearse.
All of the rehearing paid off, because the students of Utica brought home scholarships and good scores. When each person gets judged, the highest they can get is a "superior" scoring. In her first year attending, sophomore Ann Droelle received a "superior."
"It was a very rewarding experience," Droelle said. "It was a relief to do good."
All seniors going to Thespian Festival were eligible to apply for scholarships. The seniors from Utica who won scholarships were Lindsey Berg, Madison Herrington, and Jillian Jezak. Herrington explains the process they needed to go through to apply.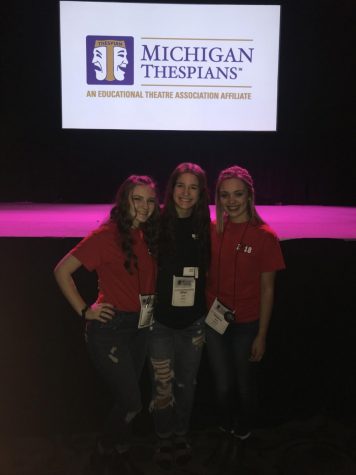 "To apply for the scholarship, I had to prepare a portfolio of all the things I've done, write a speech, and perform at the festival," Herrington said. "I received $68,000 in scholarships."
Berg, who performed in group dance and had a solo in group musical theatre, also was offered scholarships.
"I went for musical theatre scholarships and I ended up getting seven callbacks. Three different schools offered me money," Berg said. "I was purely shocked."
Getting good scores and scholarships though, according to senior Delaney Hageman, is not even the best part of the Michigan Thespian Festival.
"The best part about the festival is the bonds you make before and after it. It's stressful at times, but it's fun and amazing," Hageman said. "It shows people their true selves. I would recommend it to anyone."