Fairy tales come to life
Princesses, witches and talking animals are just a few things that were brought to the stage during the "Brothers Grimm Spectaculathon," put on from Nov. 8 through 10.
With a cast of 31 actors, the show was described as "the funniest play" sophomore Annie Droelle had ever seen. Droelle is one of the costume designers for the show, a position she enjoys greatly.
"I love being creative and having a big part deciding big things for the show," Droelle said.
Costumes weren't the only creative part of the show, however. Since the play relied so much on fantasy, there was a lot of room for intricate makeup.
"[The makeup] had to be exaggerated so that people could see it from stage," senior Madison Herrington, head of makeup, said. "Cinderella and Snow White are really basic, like what you would see in the movies, but the talking fish is my favorite, because it looks really fish-like."
The show featured a number of classic fairy-tales from the "Brothers Grimm collection, such as the stories of Rumplestiltskin and Rapunzel. The versions used in this play however, had a twist in the form of sarcastic commentary done by two narrators, played by junior Aidan Huyghe and senior Hailey Hough.
"My character is always on stage, which is really fun," Hough said. "Both of the narrators have a peanut gallery thing going on, and we're always commenting on what's going on onstage."
This comedic nature of the play made it hard for the actors to keep straight faces during rehearsals. According to junior Dez Lacourse, the play is a lot like Saturday Night Live.
"Everyone was doing so good, it made it hard to stay in character," Lacourse, who plays both Rumplestiltskin and the King, said. "One person would start laughing and then we couldn't stop laughing."
Overall, the production was a success, and everyone's hard work paid off in the end.
"I'm super proud of the cast and crew, and I think everyone did a really good job," senior Jill Jezak, director, said. "It's one of the best plays I've ever been a part of."
About the Writer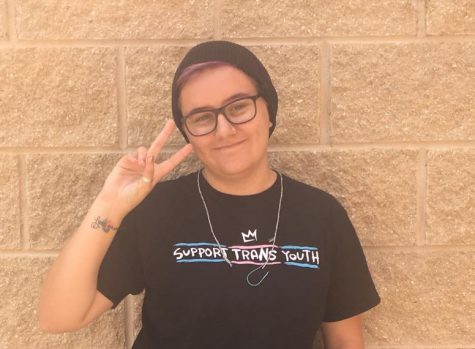 Parker Hopkins, Digital Editor-in-Chief
Parker Hopkins is a senior and this is their third year on the Arrow staff. When they aren't working on the newspaper, they spend a majority of their time...