Diving into competition
The Utica girls swim and dive team prevailed through a successful season. Although this time, a MAC Blue championship was added to the long list of accomplishments.
From freestyle all the way through butterfly, every swimmer had to contribute in order to secure the victory.
"I felt very proud because all of our hard work payed off," sophomore Danna Melendez said. "I couldn't have asked for a better swim team this year."
The girls' season started out like any other. One victory led to another and they eventually made their way to the top. There were long, hard practices and lots of training involved.
Training was an intense, and time-consuming habit that only the ambitious and motivated swimmers could go through with.
Many personal records and medals were awarded to the athletes for their hard work.Sophomore Brittany Shock was one of the qualifiers in the 100 yard breaststroke race. She placed second in this event and earned three more medals in separate events.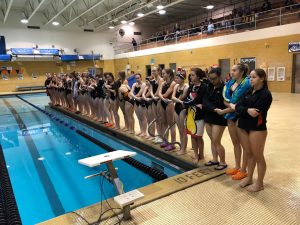 "Being in the Division championships is an incredible feeling," Shock said. "To me, it feels like our team is unstoppable."
Utica High school's support for the girls swim team has grown tremendously over the course of their season. They surprised everyone with outstanding meets, only losing to one other school, which was a division higher than the Mac Blue.
"I think that the girls did an extraordinary job," senior Alex Dicicco said. "Their team chemistry was great and everyone who swam loved to do it and that's what you need to see in a team."
The girls were undefeated in their division and have only one loss to a team in a different division. This means that on top of winning the entire MAC Blue championship, they had a perfect season, too.
"It's really exciting that we won against all of those teams and I had a wonderful time doing it," junior Maiya Russell said. "I'm really excited for next year's season."
Everyone was in high spirits and held pride in the numbers they achieved.