Hit or miss? 'Tiktok' did not miss, huh?
New social media platform is sweeping over almost everyone with its original video style and very creative users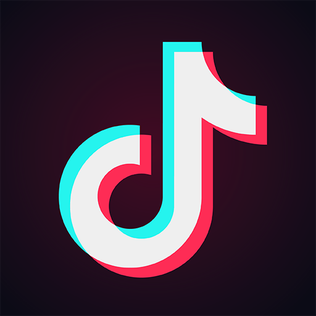 Evan Gray, Online Editor & Business Manager
December 20, 2018
Social media apps always seem to come and go as time goes on and new technological advancements are released to the public. But there's a new social media network in town and it is taking over young kids by storm.
This social media app, 'Tiktok,' is a video-based application that comprises of short videos that are voiceovers of all different kinds of audio files, whether it be music short films, movies, etc.
There are all kinds of people on 'Tiktok' and so many different communities of users that take to the app to show things off. But a problem these people run into is that there are a lot of people known as trolls who will go on the videos and make fun of them in all kinds of different ways.
"'Tiktok' is a clown app," senior Jalen Cruz said. "Everyone on there is just posting to mess around and make jokes. It can either be extremely funny or extremely cringy [meaning it's embarrasing for the person]."
This application has brought a lot of memes, which are internet jokes. That's the main reason for its huge blow up in popularity; it seems based off the content on the app, and the people's opinions that this app is strictly for jokes.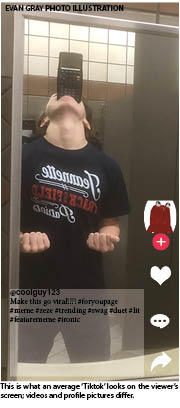 "The whole app is so stupid and because of how dumb it is, it tends to make me laugh," sophomore Aiden Ketchum said. "And honestly, it's sad that some of the users on 'Tiktok' actually take it seriously. I feel bad for people who revolve their lives around that."
'Tiktok' was started and first leaked on Aug. 8 and it blew up in popularity almost immediately. One of the main reasons for the huge spike in popularity was because many large social media influencers promoted the new social media network on their main networks to encourage people to download it.
"I remember always scrolling through 'Twitter' or 'Instagram' over summer and I'd see things about 'Tiktok,' but I never clicked on them," senior Aleah Todd said. "Now it's like the biggest thing everyone uses and it's just crazy how much it blew up in such a short amount of time."
Teenagers seem to be the main target market and main population on 'Tiktok.' There are many videos on the network that take place in schools that are seen. Senior Patrick Capo made a video in school of his friends reacting and dancing to one of the songs provided by 'Tiktok.' This video blew up right after being published and is now up to roughly 172,000 likes and almost 650 comments.
"I never thought that my video would blow up and get as popular as it did," Capo said. "I just made it to mess around and try to have some fun in school. Now it's the most viewed 'Tiktok' for the song used in it, which is a song by the rapper/music artist known as 'Yung Gravy' and I've gotten texts from so many people saying they saw my video on the for you page."
The app 'Tiktok' has technically been around since April 2014, because that's when the app was first started and it was known as 'musical.ly' which has the same premise as 'Tiktok', just the app was completely redesigned to make it user friendly, modern, and original to try and get more people to use it.
"I don't really watch 'Tiktoks' on my free time at all, but they're still really funny," senior Jack Wexler said. "Some of my friends make them and every time they show me them I can't help but laugh because of how stupid they are."
The application has an estimated $7.4 million annual revenue and that number has been at a constant increase since 2018.