Hockey unifies with Ford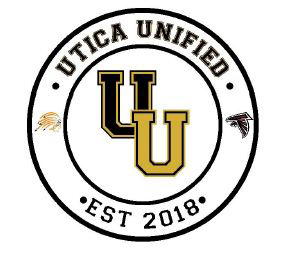 The Chieftains have unified with the Ford Falcons on the ice this year. Due to the lack of players in both programs, they chose to combine both teams creating the Utica Unified hockey team.
"With only five coming back, we realized that if we didn't do something, we weren't going to have a program," coach Robert Clouston said. "Over the summer when we didn't have great numbers, we actually got worried again, going, 'oh my gosh, we might not have a program.'"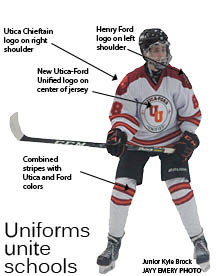 The merging took place in the off season, but initially it was difficult for the coaches and administration from both schools to get students interested in the program. However, that changed as fall rolled around.
"I think over the summer, it's hard to get a hold of all the kids," Clouston said. "Once the school year started, more and more kids started to turn out."
The team has gotten off to a tough start, having a record of 0-4 (as of date of publication), but they have all been close and hard fought games.
"Despite our struggles, our season is getting off to a better start than I thought with us being such a new team," senior James Aquisto said. "We may have not won a game yet but every loss has been within a point or two."
Clouston is very excited about the new unified team and hopes to build a bright future for this program.
"We are trying to create a belief system," Clouston said. "Our goal is to build a culture here where kids can't wait to play for Utica-Ford hockey."
Things have changed in the locker room for the Chieftains after unifying with Ford.
"There is definitely a better atmosphere on the team now," senior Nathan Kobane said. "People are getting along a lot better."
Kobane has made a few goals he would like to accomplish for the season.
"I'm hoping to be a good leader for the new guys this year," Kobane said, "and I hope we can win at least half of our games."
Aquisto shares similar aspirations.
"I want to make sure I set up the team for success and fun for this season and the future seasons," Aquisto said. "We definitely want to win half of our games and get an even record or better."
The whole team has voiced their high hopes for the season and they are excited for the rest of the season. This is not the first time that one of Utica's sports teams has merged with another school; lacrosse was also combined with Ford during its startup years.