BEATING ALL ODDS
Junior Chase Vanslambrouck is like any other student athlete, playing baseball for the high school and lifting weights in his sixth hour Conditioning for Athletes class. He takes no days off, and he's always doing something to become stronger, and an all-around better athlete.
Athletes often overcome obstacles, and Vanslambrouck is no exception. Born without a right hand, Vanslambrouck has never let anything stop him from matching the competition in sports at any level, from junior high all the way into high school.
"I've ran track and played baseball on a team," Vanslambrouck said, "but I would say football is my favorite."
Vanslambrouck enjoys all sports, but baseball was one sport that stood out from all the others. He first began playing when he was eight, but then stopped and later returned to the sport in ninth grade. When he tried out for the Utica baseball team freshman year in the spring of 2017, he beat out others with his athletic ability and made the team.
"I played when I was little, but I stopped and didn't play until last year," Vanslambrouck said. "It was hard going back because I was playing with boys who have been playing for a while.
Some may think that having one hand while playing baseball may be very challenging, but not for Vanslambrouck. After hours of practice and hard work, he's created a quick compact swing, as well as a catch and throw process only involving his left hand.
"When I am batting, I put the nub on the bat, then I release it when I go to swing," Vanslambrouck said. "I have gotten used to the process of doing it, and it really isn't that difficult."
Vanslambrouck played outfield through both the freshman and junior varsity baseball seasons, impressing coaches and players alike by making good catches, stealing bases, and spraying the baseball around the whole field when hitting.
"Chase is a great athlete," junior Sebastian Shaman said. "He's really strong and has awesome speed."
Aside from baseball, Vanslambrouck also spends time in the weight room. He started lifting sophomore year, and has not looked back, continuing to work hard in the gym every day, making impressive gains.
"My favorite part about the weight room would be the atmosphere," Vanslambrouck said. "In there, everyone hypes each other up during lifts."

Some people may think Vanslambrouck would struggle in the weight room with only one hand, but like any good athlete, he found ways around it. He has his own unique way to do pull-ups, as well as a tool to help him bench press heavy weight.
"I have a custom-made prosthetic to help me when lifting," Vanslambrouck said.
Vanslambrouck's recent max outs include a 205 pound bench press, as well as a 355 pound squat, numbers that are hard to achieve by most high school athletes, and both being his favorite parts about the weight room.
"My favorites are bench and squat," Vanslambrouck said. "I just like the feeling of the adrenaline rush and getting heavy weight up."
Vanslambrouck plans to put those muscles to the test in the near future, as he will be joining the varsity football team next fall as a senior in 2019, hoping to make a big impact in pads with the pigskin.
"I want to play linebacker," Vanslambrouck said, 'because I think the linebacker has an important part in the defense."
But no matter what sport he may be playing, coaches and friends alike admire Vanslambrouck's hard work and his ability to adapt and overcome to every situation.
"I respect how Chase handles his buisness regardless of how the task at hand might be hard," teacher Mark Moehlig said.
"When he does pull-ups he doesn't just sit there; he figures out how he can do it. While the average person might look for ways out, Chase looks for ways in."
About the Writer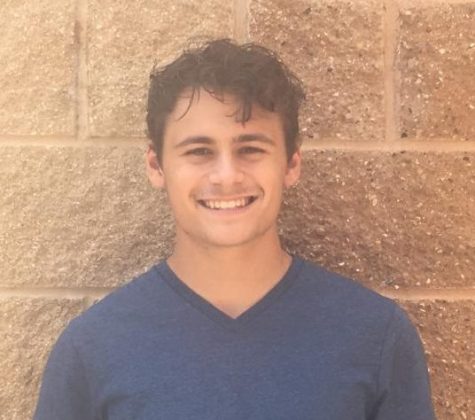 Dominic Lount, Sports Editor
Dominic Lount is a senior and entering his third and final year on the UHS Arrow news staff. Dom swims and plays baseball, and likes hanging with friends,...