Breakfast with the Board
Seven Utica High students travel to Eisenhower High School to discuss Utica Community Schools.
Have you ever wondered how the Board of Education knew that we were in need of new bathrooms? Every year the schools have a breakfast where selected students from all four Utica Community Schools high schools talk to Board of Education members and give suggestions on what could be improved or fixed.
"I think it's a great tradition," principal Tom Lietz said. "Kids get to tell their great ideas and what they think is wrong with the school to the Board of Education that they may not find out."
The Board of Education breakfast is what gave the idea of changing our bathrooms. A student of Utica High School suggested it two years ago and the district later acted on it.
"It's important that the Board of Education knows how kids feel about what's going on in the school," senior Amara Booker said.
Booker went to the Board of Education breakfast and spoke with board members like president of the Board of Education Gene Klida and many other respected members of the board.
"Doctor Thomas and I talked about our curriculum," said Booker, "and building relationships with our teachers and students."
Booker also discussed the lanyards, relationship with students and teachers, and also how their learning is going personally.
"They need to start college prep at a younger grade," senior Jaclyn Duff said. "Juniors need more college prep in their school year so they have more time to improve and develop for their futures."
The Board of Education breakfast happens yearly at one of the Utica Community Schools high schools. This year it happened on Dec. 7. Students left their first hours to arrive at Eisenhower, then returned at the end of third hour.
About the Contributor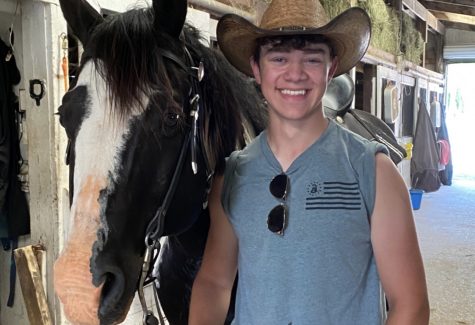 Raymond Altmann, Managing Editor
Raymond Altmann is a senior at Utica High School. This is his second year on the Arrow staff. He is usually busy working at his barn or with his horses,...