New ice skating club spins into action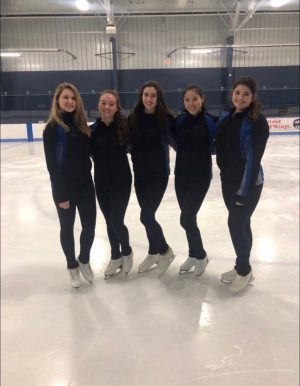 Evan Gray, Online Editor & Business Manager
January 4, 2019
All schools have many different clubs for all different types of people and their interests. Junior Carly Hitchcock is one of the few students to start one of these clubs. The club is for students who enjoy doing ice skating/figure skating and want to join a team and compete with all they have.
"I'm really happy how everything turned out with the club," Hitchcock said. "It's just so cool to be able to skate with so many people from different places."
The club doesn't just accept students from Utica High School, but students all across the area and of all ages who want to skate in a team setting.
"I heard about the club through some of my coaches," junior Ashlyn Muirhead said. "I joined because I really enjoy ice scating and it's a great way to make friends in high school."
The club practices a few days a week at Suburban Ice Macomb, and then when it's time to compete, they head out to Dearborn to skate against the other school's clubs.
"I love being able to come together with other students," Hitchcock said. "There's all different types of kids from all different schools and backrounds so it's cool to get all these people together."
The ice skating club has students from almost every UCS school excluding the elementary schools. But there are a few freshman on the team from the middle schools of UCS and the high school students range from all four of them (Utica, Henry Ford II, Stevenson, and Eisenhower).