Legalization of marijuana raises concerns for the road
43.6% of high school seniors have smoked marijuana at least once within their lifetime, according to www.drugabuse.gov. With the recent legalization recreational marijuana for those 21 and over, the number of high school students smoking it has the potential to increase simply because it will be more prevalent.
With the growing exposure to marijuana, many students and adults alike don't understand the dangers that come with smoking this substance.
A major danger to smoking this drug is the effects it has on driving. The drug impairs coordination, and affects perception of time, depth perception, and judgment. Despite this, a misconception about smoking weed is that it's okay to drive while high.
"I think they're thinking really illogically if that's their belief," principal Thomas Lietz said. "There's a lot of dumb things that influence our driving. Marijuana is a depressant; it slows down your decision making."
Along with slowing down your brain, smoking marijuana can have other major affects on your body. While for some there may be a prescribed benefit of cannabis, with recreational use being legalized, it is important that those who decide to use THC consider all factors it can have on your body and driving ability.
"Some people who are high on marijuana go to the opposite extreme. When they smoke and they get behind the wheel, they want to be extra careful," Los Angeles Police Department detective Bill Bustos said in a CBS interview. "They'll go extra slowly, or they'll give themselves room behind the car in front of them."
As the legalization of recreational marijuana goes into effect, law enforcement is putting forth their best effort to ensure safety remains on the roads.
Attention in the media
A widely popular comedy Youtube channel with around five million subscribers, "The Try Guys," has brought attention to the dangers of driving under the influence of marijuana, as well as other driving dangers like drinking, sleep-deprived, and texting.
"We're doing this specifically to show you why you shouldn't do this," Try Guys member Keith Habersberger said, "and we're going to do it 'safely.'"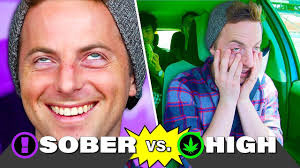 While all of the other dangers of driving under the influence remain relevant to us, as the legalization of marijuana is still in its early stages in many places across the United States, this video highlights how–contrary to popular belief–driving under the influence of marijuana is still very dangerous.
"We do have drug recognition experts," Los Angeles Police Department Detective Bill Bustos said. "There are many indicators that we look at to determine what types of drugs they may be under the influence of."
The video begins with the team taking a sobriety test with an officer, followed by each Try Guy taking turns driving through a course they previously drove through sober.
After driving the course, the Try Guys hit, on average, eight cones. Along with hitting cones, other common faults the members had were stopping in the middle of the road, driving too slow, driving in the wrong direction, and collisions.
While the issue of driving under the influence of marijuana is still new, law enforcement is making strides to better understand this issue and prevent it.
Police face new challenges
The legalization of recreational marijuana has passed in Michigan, but clarity of the law is evolving.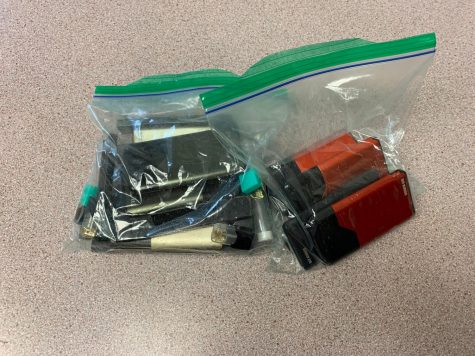 "The legalization has made my job harder," Shelby Township Police Officer Jim Malczewski said. "The law is difficult to contain because it is so new."

Soon after the law passed, police officials in Shelby Township were quick to ask its governing body to opt out of allowing commercial sales of marijuana and related products until the state is able to come up with licensing rules and regulations. According to Malczewski, law enforcement cited statistics from Colorado, where communities have seen an upswing in crimes after allowing recreational sales.

"

"It would bring in new crimes, and people desperate for weed, to Shelby.""

— Police Officer Jim Malczewski

The township agreed, and for now, the sale of recreational marijuana is not allowed in Shelby Township.

"It's a great thing, because once grow operations are allowed, it brings in a lot of new challenges," Malczewski said. "It would bring in new crimes, and people desperate for weed, to Shelby."

According to Malczewski, recreational sales would have a very negative impact on the township.

"We would see crimes similar to those happening in Colorado," Malczewski said. "For example, if [recreational marijuana users] don't have enough money to buy marijuana, they car jack someone's car. Obviously, this would present new challenges to law enforcement and residents within Shelby Township."

Due to the recent passing of the law, there are many new misconceptions about what users can and can't do with weed.

"People think since the law has passed they have more latitude when smoking and driving, and that it's more widely accepted," Malczewski said. "But actually, it's not. Officers are looking for it more and more now."

Although smoking and driving is illegal, it's become harder for law enforcement to detect when someone is high due to new devices such as THC pens, which make it easier for people to get high. These new pens, which are illegal for those under 21, require officers to be more thorough when it comes to searches. They are also on the lookout for the manufacturing of wax.

"I think these new traffic stops are going to be more thorough by more officers," Malczewski said, "which is going to be a pain in the butt for the person driving the car, and even more so for the officer on scene."

With the expected increase of people over the age of 21 legally carrying marijuana, it is important to note that there is a limit of 2.5 ounces on your person. Within a household, there is a 10 ounce limit, as well as 10 plants.

"I think the biggest challenge for students is that it's so easy for you guys to obtain medical marijuana, it's so easy to obtain drugs, and vapes," Malczewski said. "With that, there's also social media, which brings a whole new ball of peer pressure.