2019 brings back Breaking Bad
Evan Gray, Online Editor & Business Manager
March 1, 2019
Breaking Bad is one of the most critically-acclaimed television shows of all time and to this day is known by many as the best show of all time. Though that can be a very controversial topic because of everyone's varying opinion, there is no denying the show was a monumental hit. The show is looked at so highly because of the amazing, award-winning director Vince Gilligan and the star actors of the show Bryan Cranston and Aaron Paul
The focus of the show is a high school teacher who found out he had terminal lung cancer and he feared his family wouldn't have enough money to live happily when he eventually died, especially with a baby daughter on the way and a son who suffers from Cerebral palsy. Since he saw the end near he decided to 'break bad' and he ended up finding an old student of his, Jesse Pinkman, and tracked him down to make and distribute methamphetamine.
There are all different twists and turns throughout the show and you never know what's going to happen next. After the shows finale in September 2013 fans all over the world have been clambering for answers, including myself, about what happened to all of our favorite characters.
Is Walt alive? Where's Jesse? What happened to the White family? These are only some of the many questions me and many others have, but there's light at the end of the tunnel because Gilligan came out and released a statement saying that the Oscar winning show as going to come back, but as a movie.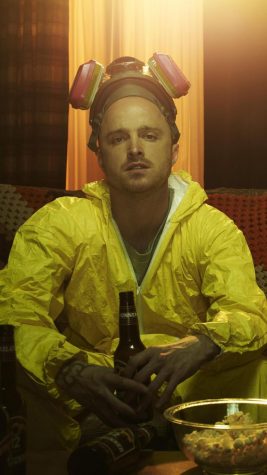 This filled my heart with excitement and the lash that went through social media was one of the biggest of the entire year. It was stated that the movie will be airing on AMC and released on Netflix towards the end of 2019.
Now that you know the rundown about the situation, let me give you my opinion on this, since I am a 'Breaking Bad' super fan.
This movie will be outstanding, saying that the same crew that worked on the show will be working on the movie too. There was a leak online saying that the movie will focus on Jesse's road to recovery after all that Walter made him do, which is awesome because Aaron Paul is an absolutely outstanding actor and I can't wait to see how he plays the character 6 years later.
Though I am so excited, I am kind of worried that Walter White, Bryan Cranston's character, won't be back. Walter White was the best character in TV or movie history and I just want to see him on screen one more time, and I'm sure I can't be the only one.
I cannot contain my excitement for this movie and I am hoping and praying that it lives at least halfway up to the greatness the show was. I might need to re-watch 'Breaking Bad' for an eighth time, yes eighth time, to refresh my memory before the movies release date which is yet to be said to the public.