Elizabeth & Michelle
Evan Gray, Online Editor & Business Manager
March 5, 2019
From coming up with an idea for a club, to trying to push that idea, and then eventually getting an email from a former first lady. This all seems like an unlikely story, but it is real events for this Girl Scout.

Sophomore and Girl Scout Elizabeth Mulvaine did just that with her creation of "T1D includes ME," which is a support group for people with siblings diagnosed with type one diabetes.

"When my sister was first diagnosed all the attention immediately went to her," Mulvaine said. "I felt like I was left in her shadow, and it wasn't a good thing. When it first happened it felt like there was only support for my sister and not for me or anyone."

Mulvaine started this group through the Girl Scouts and once it started to pick up some traction, she decided to go to the Wow Foundation. While there, she met some people who helped get the word of her cause across.

"I met a person that I can't exactly remember the name of," Mulvaine said. "When I told them about what I was doing, they said they'd make it happen."

A month after that interaction, Mulvaine received an invitation to Michelle Obama's tour for her new book, titled "Becoming." This event took place at

"

This means a lot to me. I just want to help people who go through it, as well."

— Elizabeth Mulvaine

Little Ceasers Arena in Downtown Detroit, and it gave a few people the opportunity to talk on stage.

"I was at the event and Elizabeth did amazing," principal Tom Lietz said. "Everyone on stage seemed to be scripted, and you could tell she was just being herself and speaking her mind. It was awesome."

Elizabeth and her family stayed for the entire book show, then when she got called on stage she went up and talked about what she was becoming.

"On stage I talked about how she was becoming a gold award," Mulvaine said.

A gold award is the highest award that is given to Girl Scouts in the United States. To receive the award, the scout must be a Senior or Ambassador Girl scout. Only 5.4% of Girl Scouts receive this award.

"After talking about the gold award, I talked about T1D includes me," Mulvaine said. "Because that's what matters to me most and I'm very passionate about it, I want to help others who feel the same as me and could really benefit from it. They did give me a speech, but I just started to turn it into my own."

To get to where she is now, Mulvaine had to do countless hours of work, and she also had to get the group approved by the Girls Scout Council.

"It just got approved recently so it can finally be taken into action," Mulvaine said. "I had to go in front of the Girl Scout Council and present T1D includes me to them. I'm very happy it got approved."

Mulvaine is hoping that her new support group can help people who feel the same pain she does from this experience. There is an Instagram with the name of "t1d.includes.me" and there are open comments on it for anyone who would like to talk to her and the community.
About the Writer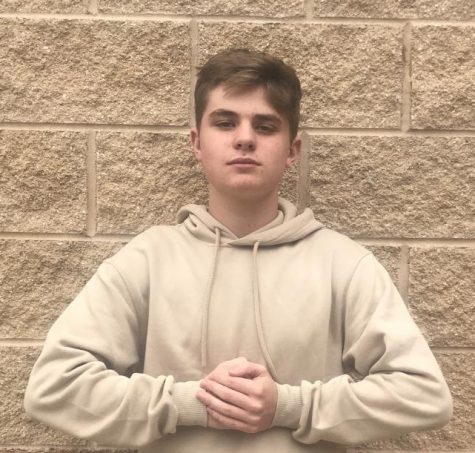 Evan Gray, Online Editor and Business Manager
Evan Gray is a Senior this year and this is his third year on staff. He loves newspaper so much because he is so good at it. He is also a huge football...