Sculpture built for musical
Theater has always been known for elaborate sets and interesting shows, but this year they're even more extravagant than before. For the spring musical, they're having a statue made of the one and only Freddie Mercury, who is the late lead singer for the rock band Queen.
"There's going to be a shrine that he's (sculpture) part of, and we had an extra door and decided to make a shrine with it." who said this??????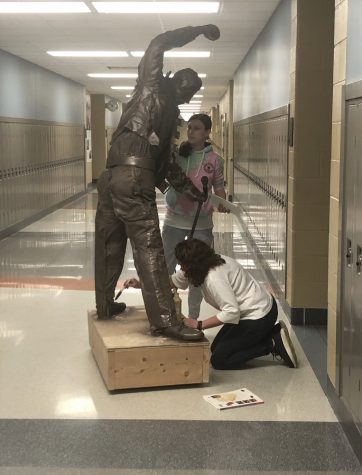 With the new musical 'We Will Rock You' coming up, hard work and contributions from many different people are being put in. For example, the National Art Honor Society is pitching in to make the sculpture of Mercury to be used in the production.
Two NAHS members, Juniors Sofia Martinez and Sam Koneval work on the sculpture Wednesdays and Thursdays after school for up to two hours at a time. They predict it will be finished by the middle of April, just in time for the show.
"It's a little difficult getting everything as well as the dimensions right," Koneval said. "But it's coming along slowly but surely."
Drama teacher Joel Kaczmarcyk initially came up with the idea, approaching art teacher Jennifer Allore to ask for sculpture to be made. The sculpture will be used as a prop in the musical and it's predicted that it will also play a part in the script.
"Mr. K. came up with the idea and the costume design," Junior Dez LaCourse said, "it's going to look really sick."