Utica United visits GVSU for BAMM GSAS
On Friday, March 8, members of Utica United visited Grand Valley State University to attend the Building a Movement for Michigan Gender and Sexuality Alliances' (BAMM GSAS) fifth Annual Summit. The students were able to attend workshops and meet with others who are also in gender-sexuality alliances (GSAs).
Participants enjoyed activities, panels, and sessions with fellow GSAs in Michigan. The day started with icebreakers and breakout sessions. Lunch was then served, and activities, a panel, and more sessions followed.
There was a variety of sessions for students to choose from that fit their interest best. Senior Delaney Hageman, who's on the executive board for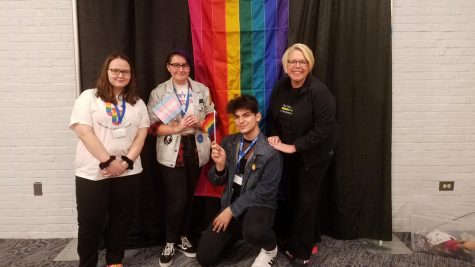 Utica United, went to a session about different games students could bring back to their GSA.
"It was a wonderful experience," Hageman said, "I definitely see myself using skills we learned from the summit in the future."
Sessions were also held to give the students advice on self care and their mental health.
"I learned new things I can use with stress and other social problems," senior Jonathan McGee said.
The conference was also an opportunity for LGBTQ+ students to meet others like them.
"I made new friends with people from other schools," junior Parker Hopkins said. "It allowed me to see new perspectives on life in the LGBTQ+ community."