Like and Subscribe
Students create YouTube channels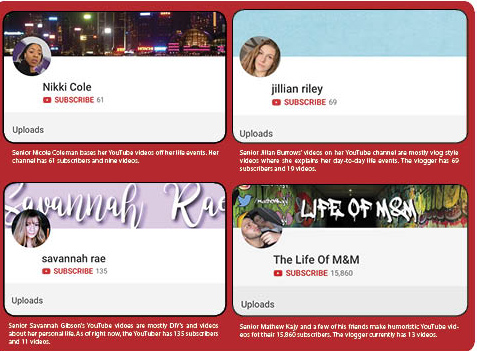 YouTube, which was first started in 2005, has become increasingly popular as individuals find more satisfaction from watching a tutorial rather than reading about one and figuring things out on their own. With videos on how to create different projects and how to do unique makeup looks–to videos on sports and video games–almost anything imaginable can be found on YouTube.
For many YouTubers, their content is produced to entertain viewers and express their inner feelings. Nowadays, it is not rare to find a YouTube creator in every which corner you turn, many of these YouTubers even roam the hallways of Utica High School.
"I started my channel two years ago, and back then I would mostly review video games," senior Mathew Kajy said. "I just recently started posting vlogs about my life and everyone watching seemed to enjoy them, so now my content is more based off of what I do outside of school."
Student YouTubers often times find themselves creating content in class in order to show their audience how their day-to-day activities go. Though some YouTube stars focus on incorporating their own lives into their videos, some tend to focus on events that they find interesting.
"Most of my videos are mostly vlog style where I vlog with my friends or my sister," senior Jillian Burrows said. "I also love to do travel videos when I go on vacation."
Inspiration from other people is what drives most individuals to become what they have always wanted to be. For many professional YouTubers, their channels were developed by seeing what other types of different content people were producing. Similar to professional YouTubers, the YouTubers at Utica High school also found themselves looking up to other channels for insight.
"One channel that really inspired me was the Ace Family," senior Nicole Coleman said. "I saw how much they inspired others and I wanted my channel to have the same impact on people."
YouTube channels are produced to show ones true colors and to produce content the subscribers will enjoy. YouTube content is usually made by people who do not mind the judgment of others.
"I love making content," senior Savannah Gibson said, "because it is so much fun to do in my free time."