Theater gets ready to rock center stage
Spring musical 'We Will Rock You' centers around Queen's famous tunes
The electric guitar strums and the crowd goes wild. This may sound like beginning of a Queen concert, but it's really just what's in store for the theater department's new musical "We Will Rock You."
"We Will Rock You" incorporates the band Queen's top hits. The musical is set many years in the future and is centered around a character named Galileo, as he struggles with hearing lyrics of old songs in his head, even though he's not supposed to. The musical has been described as a crossover between "1984," "Fahrenheit 451," and "Footloose."
The musical is directed by seniors Sarah Boughner, Delaney Hageman, and Mackenzie Robertson. While auditions were held in December, the theater department has been anxious to begin this production since June of last year.
"The moment Mr. K actually announced it, he couldn't tell us exactly we were doing 'We Will Rock You,' so he showed us an old choir shirt and I saw it and I started crying," Robertson said. "Freddie [Mercury] always said 'never make me boring,' and I don't think that we could do it if we tried."
With three directors, each was able to specialize in a different area of expertise. Boughner is in charge of movement which consists of choreography and blocking, Robertson specializes in acting, while Hageman assists both of the other directors on dancing and acting.
"This is my second show I've directed, I was an assistant director for 'Sleeping Beauty' last year," Boughner said. "It's sad [this is my last show] but it's also really rewarding in a way knowing I've been a part of something really big and I've gotten to put on this huge show that's important to so many people."
While this musical has many Queen songs incorporated with the show, the character list is smaller with eight main characters but a large ensemble cast. However, teacher Joel Kaczmarczyk already had one selection in mind before auditions began.
"[Senior] Amara [Booker] is an amazing Killer Queen as far as an actor," Kaczmarczyk said. "I knew she was going to have this part before we even cast it, just because there was nobody else that could play it but her."
Another main character, Khashoggi, has been a role earned by someone new to the stage. Senior Alexander Dotson has been working toward this role since the summer last year with the encouragement of Robertson.
"I took vocal lessons over summer and I'm still actually taking lessons," Dotson said. "When the day [of auditions] came I was super nervous and it was all very stressful, but I just went up there and gave it my best shot."
Being in this musical has allowed these actors to dive into their characters and explore the story line.
"I like my character [Scaramouche]; she's very sarcastic and an independent powerhouse," senior Lindsey Berg said. "I like playing this character because it helps me become more versatile in my acting."
For fans of Queen, this musical consists of some of the classics like "Bohemian Rhapsody," "We Will Rock You," "Under Pressure,' and "Killer Queen."
"Sara is implementing an idea I had last year when I foresaw doing the show," Kaczmarczyk said. "I wanted the back up dancers to do a hat and cane dance routine and they're doing that in tuxedos that have been donated by Wesner Tuxedo."
In addition to all of the excitement surrounding the show, theater is also having a spirit week that follow the show's theme of Queen and rock-n-roll.
'We Will Rock You" will have performances on April 25, 26, 27.
About the Writer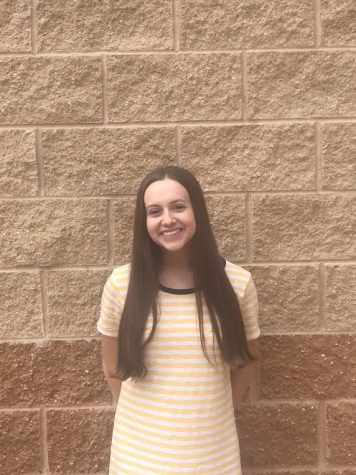 Madalyn Dishman, Editor-in-Chief
Madalyn is currently a senior and is very excited to start her third year as editor-in-chief. When she's not dealing with Jacob, Evan, and Collin's goofy...