Behind the scenes
Hours spent after school and on weekends are the norm for theatre teacher Joel Kaczmarczyk
How do you spend your time off school? Hanging out with friends, spending time with your family, and catching up on your favorite TV shows are all things we love to do in our free time. Teachers don't always get as much time at home as us students. You probably don't realize it, but teachers spend so much extra time at school after their students leave. One example is drama teacher Joel Kaczmarczyk.
Even after everyone else has gone home for the day, Kaczmarczyk stays late to help produce Utica's theatre shows. He helps coach actors, sort out technicians and run the program, overall.
"Mr. K is always going out of his way for his theatre kids and spends countless hours f hard work to make sure that everything is perfect for the shows," senior Lindsey Berg said. "I see him as a father figure while I'm at school."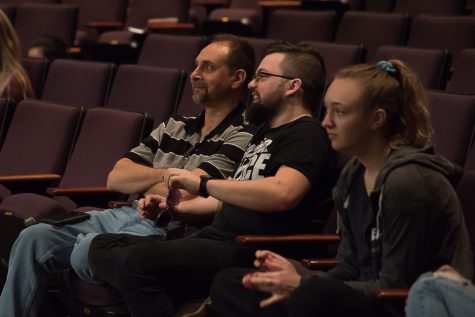 Over spring break, Kaczmarczyk spent some of his free-time in the school's auditorium, building the set for the upcoming musical, 'We Will Rock You'. He built most of the set by hand, including the throne, stairs and railing.
"He's here all the time," principal Tom Lietz said. "On weekends, over summer. Sometimes I think he sleeps here because he's here so much."
He even takes the work home with him or, more accurately, brings the work back to school from home.
"I'm here after school or on weekends; I even build some things in my garage and bring them here," Kaczmarczyk said. "I built [Killer Queen's throne] in my garage on a weekend, just because it's easier."
Kaczmarczyk has been producing Utica's theatre productions for 15 years, for a total of 47 productions. This includes the current musical, 'We Will Rock You', which will be on stage April 25 through 27.
"My job as a producer is to make it look the best I possibly can," Kaczmarczyk said. "It makes me feel good because I'd hate for these great people that are so talented to be in front of a crappy-looking set."
Recently, Kaczmarczyk was one of four teachers nominated for Teacher of the Year at Utica High.
"He's amazing, and I'm thrilled he was nominated for Teacher of the Year," Lietz said. "Nobody realizes how much time he puts in."
About the Writer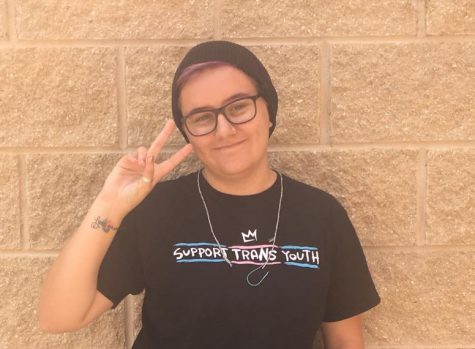 Parker Hopkins, Digital Editor-in-Chief
Parker Hopkins is a senior and this is their third year on the Arrow staff. When they aren't working on the newspaper, they spend a majority of their time...