Senior Week
As senior graduation approaches, student council is having their annual Senior Week a week full of fun activities and events.
Monday and Tuesday are the hush days. Monday is the male hush day. How it works is that all male seniors get three sets of beads and throughout the whole day they have to try and not to talk to any of the female seniors, and if they do, they have to give up a set of their beads and the senior(s) with the most beads at the end of the day gets the bragging rights of staying silent all day.
"It may be stupid, but it's a fun, competitive way to earn bragging rights," senior John Mayberry said. "And is fun way to remember the last week of being a senior."
Tuesday however, is the opposite. No matter how many sets of beads the females got the day before, the day restarts and the females get three sets of beads and now it is the males turn to try and get the females to talk to them.
"It is a different and unique way to end senior week," senior Danielle Maynor said. "And will be a fun week full of activities."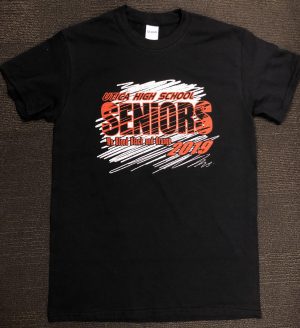 On Wednesday seniors are supposed to wear T-shirts or gear in general showing off the college they are attending in the fall. If said student isn't going to college they can still wear college gear for their favorite school to show spirit.
Thursday is the day for seniors to wear their class shirts, which were on sale all school year. They are black shirts with a white and orange scribble design and "class of 2019" across it. This day is meant for the seniors to show that they're really almost done with being a high school student. Also on Thursday morning is the senior breakfast and mock election winners are announced. That evening is also honors night.
Finally, on Friday seniors are set to just rep the school and wear orange and black. This day of spirit week isn't expected to have too much of an outcome because it just happened to fall on the infamous 'senior skip day'.
"I am so excited for senior skip day," senior Cassy Johannes said. "My plan is to hangout with my friends and I'm just happy to see them and to be almost done with high school."